Multibank FX aggregation service FXSpotStream has reported figures indicating that September 2018 was its busiest month ever, with FX trading coming in at $31.9 billion in average daily volumes.
Previous best ever result at FXSpotStream was June's $30.4 billion ADV.
As there were less trading days in September (20) than August (23), total volumes were actually slightly below August's record of $652.4 billion, at $637.7 billion in September.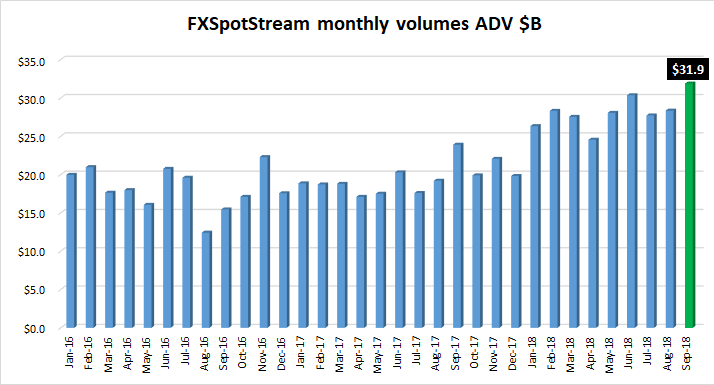 Some of the September results to note at FXSpotStream included:
FXSpotStream breaks another ADV record registering an ADV of USD31.885 billion during the month of September.
4 ADV records have been set in 2018 – January, February, June and September.
September's ADV of USD31.885 billion represents a 12.41% MoM increase over August. The record ADV represents a 5% increase from the previous ADV record set in June of USD30.368 billion.
September's ADV of USD31.885 billion represents an increase of 33.19% over September 2017's ADV of USD23.94 billion.
FXSpotStream's YoY Growth contributed to a total of USD5.461 trillion transacted on the Service, an increase of 47% when compared to the same period in 2017.
FXSpotStream remains the fastest growing eFX cash venue in 2018 – ADV has increased 47% in 2018 vs the same period in 2017.
| | | | | | |
| --- | --- | --- | --- | --- | --- |
|  Month | Total Volume* | Avg Daily Volume (ADV) | ADV Change MoM | ADV Change YoY | Trading Days |
| Sept-18 | $637,707 | $31,885 | +12.4% | +33.2% | 20 |
| Aug-18 | $652,398 | $28,365 | +2.4% | +47.6% | 23 |
| Jul-18 | $609,704 | $27,714 | -8.7% | +57.9% | 22 |
| Jun-18 | $637,719 | $30,368 | +8.2% | +49.5% | 21 |
| May-18 | $645,411 | $28,061 | +14.3% | +60.8% | 23 |
| Apr-18 | $515,696 | $24,557 | -10.9% | +43.5% | 21 |
| Mar-18 | $606,011 | $27,546 | -4.5% | +46.7% | 22 |
| Feb-18 | $576,631 | $28,832 | +9.5% | +54.1% | 20 |
| Jan-18 | $579,463 | $26,339 | +32.8% | +39.7% | 22 |