It looks like the FX trading world has had a great start to 2018.
Driven by increased volatility in key currency cross rates EURUSD and GBPUSD following weakness shown throughout the month by the US Dollar, institutional Forex ECN Cboe FX Markets – formerly known as Hotspot FX – has reported its best ever month, and that by a wide margin.
Data from the recently rebranded Cboe FX indicate that FX trading volumes for the month of January 2018 topped $42.6 billion (average daily volume), beating handily the company's previous best-ever month of September 2014, at $38.2 billion. For the full year 2017 Cboe FX averaged $29.6 billion daily.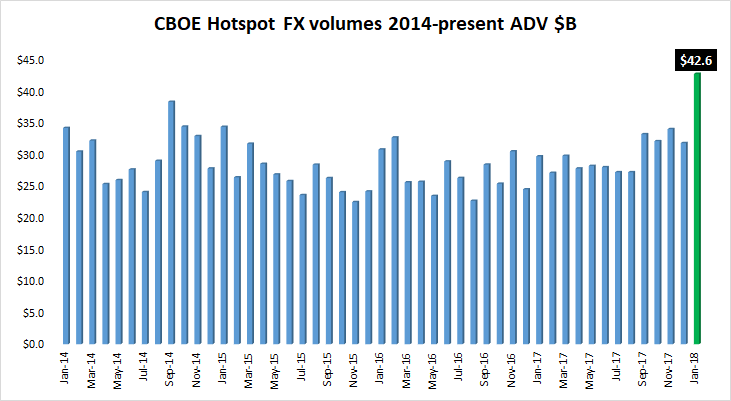 The month also saw one of Cboe FX / Hotspot's best ever days, on January 25, when trading volumes topped $68 billion.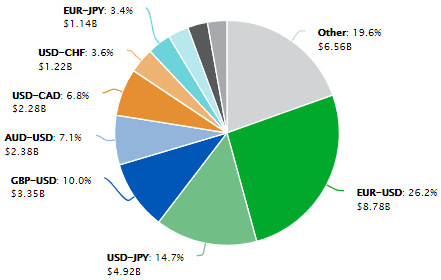 By product, the most-traded pair at Cboe FX in January 2018 was, not unexpectedly, EURUSD at 26.2% of total trading. USDJPY at 14.7%, GBPUSD at 10.0%, AUDUSD at 7.1%, and USDCAD at 6.8% of total were next in line.
It has been nearly a year since Hotspot FX has operating under the corporate umbrella of its new owner, CBOE Holdings Inc. (NASDAQ:CBOE). CBOE acquired control of Hotspot FX via its $3.2 billion takeover of Bats Global Markets Inc at the end of February 2017. CBOE initially rebranded its Forex ECN unit as: Hotspot – a CBOE company. And now, as noted above, it has been re-rebranded as Cboe FX Markets, with the 'Hotspot' brand being now phased out.