LeapRate Exclusive… LeapRate has learned that institutional FX broker Global Market Index (or 'GMI') has hired former Exness executive John Taylor as COO of its FCA regulated UK operation, Global Market Index Limited.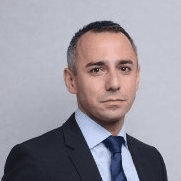 John Taylor served as CFO of Exness for the past three years, and helped spearhead the launch of Exness' UK operation and FCA licensing, which was upgraded last year. His prior experience includes acting as COO and Head of Operations & Middle Office EMEA at Deutsche Bank.
In his new role, John Taylor will report to Ashraf Ebid. GMI and is run by Mr. Ebid (Group CEO) and was co-founded by Jeff Chao, who is the firm's Group COO. GMI started its brokerage services in 2009 with a heavy focus on the Asia Pacific market. In 2010, GMI was an early pioneer to introduce ECN and STP technologies into the Asia Pacific region. In 2015, GMIUK received its authorization as an STP-ECN only broker from the FCA in the UK.
Ashraf Ebid said to LeapRate:
We are very fortunate to have John join us at GMI UK. He brings a wealth of experience and knowledge, and has already helped us move forward with our growth plans in the short time he has been with us. John has a valuable mix of experience, not only from within our sector but also from the more mature and regulated environment of Investment Banking. We believe that such experience and skills will be increasingly important to clients, brokers and the industry in general as time moves on and that this know-how was just what we were looking for to match our own values and in order to continue to build a solid business that is here to stay.

John brings a ton of valuable experience and operational and financial discipline to GMI UK and to GMI Global Group of Companies. With our recent success in launching our own GMI proprietary in-house developed software such as one of the most advanced and stable MT4 bridges and MAM solutions on the market today as well as an incredible suite of MT4 tools and extensive broker reports, it was time to take the next step in our ambitious and aggressive growth plans starting with hiring John as our accomplished and proven COO to assist the company to next level.
John Taylor added about joining GMI:
Ashraf and Jeff Chao have built a genuinely impressive company and they have a great team behind them. I am a huge buyer of the GMI product offering. As a seasoned B2B / STP only broker that has fine-tuned it's product over the past 9 years internationally, I strongly believe that we are perfectly positioned to thrive in the current fast changing environment and to help our institutional/broker clients do likewise.

Something that I found particularly attractive and that we are all proud of is the fact that the wider GMI Group have a rare combination of not only market leading liquidity solutions and white label offering, but also an increasing bench of software solutions. Whether that be the provision of an impressive bridge solution or efficient MT4 reporting solution, it has been tailored based on the issues we faced over the years as brokers ourselves. We can now pass those on to others and help the small to medium sized brokers solve serious problems and free them up to grow their own business in a stable way without going through some of the pain in time, efforts and serious costs that we encountered. It is an impressive combination to find a whole host of technology and liquidity solution in one house. I am very excited for the opportunity to work with Ashraf, Jeff and the global GMI team and very much looking forward to playing a part in building out the next phase of GMI growth here in the UK.