LeapRate Exclusive Interview… Just over a year ago LeapRate reported exclusively on China-focused B2B Forex broker GMI (short for Global Market Index Limited) hiring experienced FX industry executive Ashraf Ebid as CEO, with a mandate to build the company's FCA regulated operations in London.
Well, we thought that now might be a good time to catch up with Ashraf and see what he has accomplished in his first year, and how the quite uniquely organized FX broker, with its roots in China, views all the regulatory and structural changes facing the sector. Here is what he had to say.
---
LR: Hi Ashraf, and thanks for joining us today. It has been about a year since you joined GMI. Can you fill us in a little as to what you've been up to the past 12 months.
Ashraf: Thank you for the opportunity. Since I have taken over as CEO a little over a year ago, GMI experienced tremendous success in growing our deposits, trading volume, and our institutional partner network by more than 10 times, over the last 12 months. We are now one of the largest FX and CFD B2B brokers in Asia. Our company workforce grew from 30 plus to over 200 employees globally. Three new GMI offices were opened and our data center infrastructure expanded to 6 data centers including LD4 in London and HK3 in Hong Kong. We also opened an office in Eastern Europe for Software Development.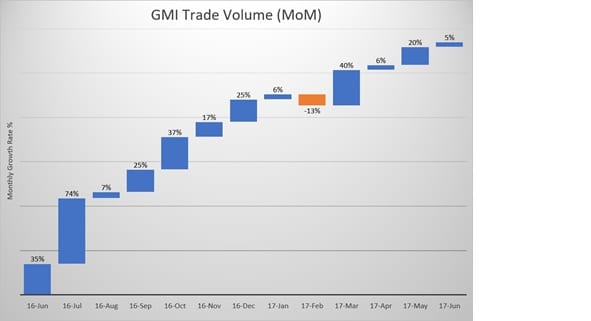 LR: Do you view GMI as a retail FX broker with an institutional component, or differently? Where do you see the most opportunity for GMI going forward?
Ashraf: GMI is strictly a B2B only broker and we do not compete or advertise for retail clients. Instead, we work through a very large network of institutional partners, including white label partners and introducing brokers around the world as well as providing liquidity to Hedge Funds, Asset Management firms, Banks and brokers from around the world.
We see a great opportunity for us going forward in providing full turnkey solutions, including high quality marketing, sales and technology consulting components, cutting edge innovated proprietary software solutions as a great opportunity for us going forward.
LR: GMI has its roots in the Far East, and we understand that you are now expanding that expertise to Chinese nationals abroad.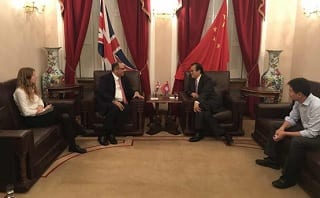 Ashraf: Yes. On July 7, Minister Councellor Jin Xu of the Economic and Commercial Office of the Chinese Embassy in the UK invited me into the Embassy for friendly talks. Minister Cllr. Jin was delighted to hear about the success GMI is enjoying, and about the company's growth in Greater China Region and among the Chinese community overseas.
I was keen to introduce GMI's position as a whole, and asked for advice on how to engage new clients among UK and Europe-based Chinese investors.
When asked about my experience as an employer in China, I was full of praise for our Chinese staff – a team numbering around 200 talented individuals based in Beijing, Shanghai, Xi'an and Dalian; the scale of which pleasantly surprised Minister Cllr. Jin.
The Minister was also pleased to hear further plans for GMI to build new teams in other cities, and was happy to promote further options in Chongqing and Henan Province, among other sites.
Minister Lin stated to us formally, "With such a strong personal connection to the Chinese people, it is no surprise you are doing well with your team in China."
GMI will continue communicating closely with the Chinese Embassy Economic and Commercial Office with a number of goals in sight.
LR: What is GMI's approach to technology. Do you rely solely on platforms, bridges, and other IT form outside vendors?
Ashraf: We currently have strong relationships with outside vendor partners serving us in many areas. However, we as GMI, have also developed what is considered to be the most advanced and fastest MT4 bridge on the market and as well as an advanced MAM solution which was developed in house by our software development team. We are currently in the middle of developing our own very advanced price aggregation and ECN engine. And next we will develop our own advanced multi-asset trading platform which will have revolutionary design and concepts which have never been seen in the market before and we expect our new approach technology to be highly disruptive.
LR: The FCA seems to have muddied the waters further as far as regulation goes by delaying its "new rules" until 2018 at the earliest, and deferring to ESMA. But how do you view how the changing regulatory framework in the UK, Europe and worldwide is affecting the Retail FX sector? How is it affecting the way GMI is approaching its business?
Ashraf: We view the FX regulatory changes worldwide with concern. However, we believe the FCA is the most experienced and seasoned FX regulatory body in the world I believe the FCA will be very cautious about changes to retail FX and CFD regulations, especially post Brexit so the UK can remain competitive and for London to remain the FX and CFD capital of the world.
GMI as a B2B broker is not directly impacted by some of the retail regulatory changes since many of our clients are hedge funds, assets managers, and white label partners.
LR: What else can we expect to hear from GMI in the coming months?
Ashraf: GMI will be greatly expanding its sales and marketing efforts with our London office and we are currently reviewing further expansion opportunities in the far east, middle east and throughout the EU.