Fintech company Capital.com has announced the launch of an educational app, Investmate, which provides training for new and budding traders, allowing them to learn the basics of finance on the go. The app delivers an expansive range of introductory trading courses on financial instruments, derivatives and CFDs, as well as a course on understanding the risks of trading.
The Investmate app – which is free to download – delivers a range of educational content, including interactive courses, quizzes, and articles, aimed at teaching amateur traders about investment best-practices. Through this material, Capital.com is aiming to help beginners become responsible, informed participants in the market, as well as provide them with the tools they need to trade successfully.
Ivan Gowan, CEO of Capital.com explains:
Education is a foremost priority for our company and we want to ensure this is at the heart of our offerings. We've also seen increasing demand for more education from clients, who want to learn, study and participate in the markets. Financial literacy is extremely important for everyone today, whether they want to become a trader or not and our Investmate app enables everyone – regardless of their current knowledge – insights into financial terms and trends. Our primary goal is to provide 1,000,000 people with basic financial knowledge.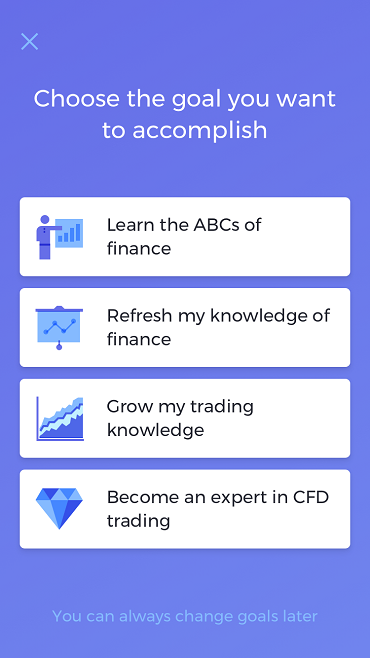 Once downloaded, the Investmate app asks the user whether they have any trading experience and it then suggests a main goal to pursue based on this experience. In line with this goal, the app will provide a number of short activities; It may be a brief lesson, a quiz, a trading tip or a trend predictor. Users are assigned three activities per day and are notified if they miss a daily "workout'. Once users achieve their goal, they have the opportunity to select another one, more complicated and level up their skills.
In addition, any financial terms that are referred to in the lessons are highlighted, giving users the opportunity to click through to a more detailed description of that term. Users can add terms to their 'favourites', as well as lessons' cards, and go back to them as and when necessary, creating personalised notes.
Capital.com said that it is continually developing its apps and is also planning on adding two further types of activities into the upcoming Investmate updates: video tutorials and a breakdown of basic financial terms.
Ivan concludes,
We have provided a great app with engaging design and user experience. It's a major improvement on the grey suits design of the previous version and we're excited to share this app with budding traders. We encourage anyone considering retail investments to ensure they're clued up on the market and are sure that our Investmate app will help us in our challenging mission of improving financial literacy.
The Investmate app is available for smartphones and can be downloaded from the iTunes App Store and Google Play Store.
Capital.com is the operating name of CySEC regulated mobile trading specialist Capital Com SV Investments Limited. Capital.com claims 17,000 daily active users. The company has has offices in Limassol, London, Gibraltar and Minsk, Belarus.