Consistent with what we've been seeing at other leading eFX trading venues for the month of June, Copenhagen based multi-asset broker Saxo Bank has reported that it saw an overall 4% MoM increase in trading volumes during June, including a 3% rise in FX trading volumes.
FX volumes came in at $242 billion for June versus $235 billion in May, with total multi-asset volumes (including also Equities, Commodities and Fixed Income) totaling $346 billion for the month, versus $331 billion in May.
As stated above, the figures at Saxo Bank are fairly much in line with what we have seen so far for June from other leading retail and institutional eFX venues. After a fairly robust start to the year in currency trading throughout most of Q1, the sector took something of a break in April as currency volatility waned, with volumes picking up again in May and June.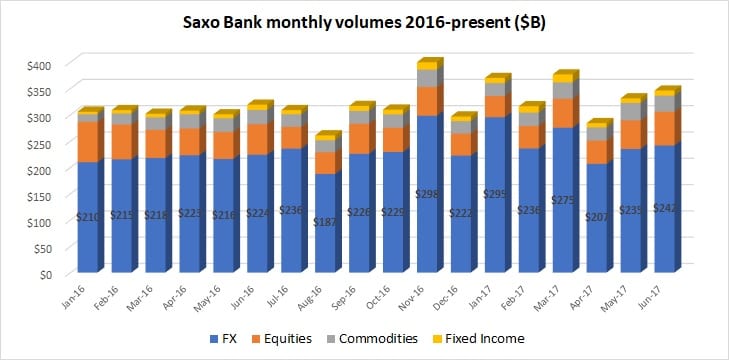 FX represented 70% of overall trading volume at Saxo Bank in June, down from 73%-75% the past few months as other areas, in particular Equities (up 18% MoM) and Fixed Income (up 11%), continue to see strong growth. Saxo Bank has been making a big push both internationally and in diversifying away from "just FX", with the latest example being its recent agreement with OpenMarkets, one of Australia's leading online cash equities brokers, which was exclusively reported by LeapRate.
Saxo Bank had a fairly eventful June, with the company making headlines by leaving the UK CFD and FX Association in dispute with other brokers over the FCA's leverage proposals. Saxo Bank also shut its Istanbul operation, following the introduction of more strict and onerous forex regulation in Turkey.
Also on the international front, Saxo Bank recently welcomed a new largest shareholder, with China's Geely Group acquiring a 30% stake in Saxo Bank from co-founder Lars Seier Christensen.