In a month in which most retail and institutional eFX providers have reported slight to mild decreases in FX trading volumes, Copenhagen based Saxo Bank has disclosed a nice 3% increase in July FX volumes, to $249 billion, up from $242 billion in June.
While forex trading was strong at Saxo Bank, the multi-asset broker did see a slight decline in volumes in its other product groups: Equities, Commodities, and Fixed Income. That brought total monthly volumes at Saxo Bank down by 3% in July, to $336 billion.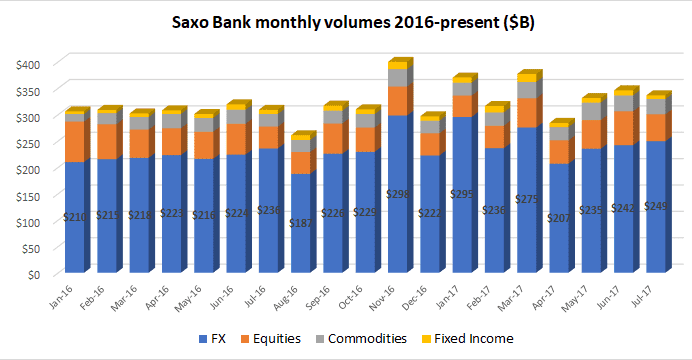 FX represented 74% of overall trading volume at Saxo Bank in July, up from 70%-71% the past few months thanks to the company's strong FX showing. Saxo Bank has been making a big push both internationally and in diversifying away from "just FX", with the latest example being its recent agreement with OpenMarkets, one of Australia's leading online cash equities brokers, which was exclusively reported by LeapRate.