Shares of Retail FX and CFD broker Plus500 Ltd (LON:PLUS) were up nicely this morning, rising by 1% and re-approaching the company's all-time high as the company began trading for the first time on the LSE Main Market.
Plus500 announced last week that it had received final approvals for the move to the Main Market from the LSE AIM, after the UK Listing Authority approved the company's Prospectus in relation to the admission of the company's shares to the premium listing segment of the Official List of the FCA, and admission to trading on the London Stock Exchange plc's Main Market for listed securities.
Plus500 had announced its intention late last month to move its share listing from the London AIM market to the LSE Main Market.
Contrary to unsubstantiated rumors being circulated on certain blogs, Plus500 has not (yet) been added or approved to the FTSE 250 index of leading UK companies. FTSE Russell, which is wholly owned by London Stock Exchange Group, performs quarterly reviews of the index components (and other key indices such as the FTSE 100) which typically see 3-6 companies dropped/added to the index every three months. FTSE Russell announced its latest June index changes at the end of May, the next round of changes will be announced at the end of August, to be implemented in mid September. Plus500 – based on its £1.9 billion (USD $2.5 billion) market cap – could certainly qualify to be included in the FTSE 250, but again that is something which won't formally come up for consideration for another 2+ months.
Plus500 has been on something of a roll lately. After reporting an absolutely monster Q1 which saw it more than double its previous best quarterly Revenues, to $297 million, the company issued a mid-quarter Trading Update at the beginning of June indicating that its business continues to trade strongly, driven in large part by high levels of trading in the company's cryptocurrency CFDs offering.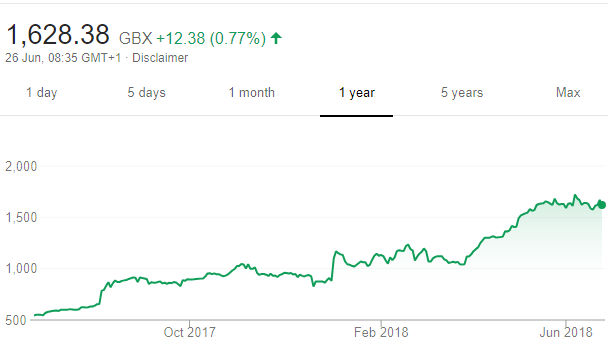 Plus500 share price graph, one year to present. Source: Google.