LeapRate Exclusive… It looks like a number of heavy hitters are betting on a comeback in the share price of CFD broker Plus500 Ltd (LON:PLUS).
Plus500 shares, and those of other leading UK online brokers including IG Group Holdings plc (LON:IGG) and CMC Markets Plc (LON:CMCX), were hit hard late last year following new proposed rules unveiled by UK regulator the FCA, limiting leverage in Forex and CFD trading.
LeapRate has learned via regulatory filings that global investment bank Morgan Stanley (NYSE:MS) has increased its stake in CFD broker Plus500 Ltd (LON:PLUS) to 6.5%, up from 6.3% reported previously and 2.4% as at the end of last year.
Morgan Stanley now holds, via several investment subsidiaries, a total of 7,469,615 Plus500 shares worth £32.4 million (USD $40 million).
Morgan Stanley is not alone in making a big bet on Plus500, which at £4.34 per share is trading just slightly above half of its 52 week high. We had also recently reported that UK hedge fund Odey Asset Management had built its position in Plus500 up to 23%, making Crispin Odey's funds the largest individual shareholder in Plus500 behind only co-founder Alon Gonen, who after the recent Plus500 secondary offering holds 11.9 million shares, or about 10.3%.
We'd note that Crispin Odey's firm had a very rough 2016, with its flagship hedge fund off 50% thanks to incorrect post Brexit bearish bets pushed by Mr. Odey throughout the year.
Plus500 itself recently reported fairly strong financial results for Q3 2016. Recent indications are also that the company continues to strengthen its position in the lucrative UK CFD market, sitting behind only market leader IG Group.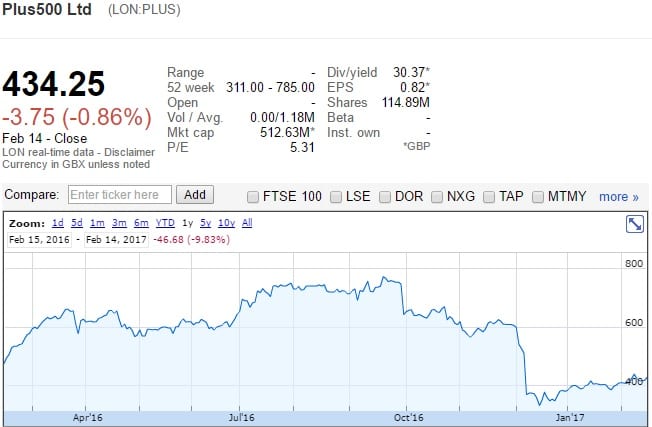 Plus500 one year share price graph. Source: Google Finance.