UK online trading leader IG Group Holdings plc (LON:IGG) today issued a Trading Update ahead of entering its close period following the end of the first half of its fiscal 2018 year. IG Group has a May 31 fiscal year end, so its first-half 2018 results are for the six month period ended November 30, 2017.
Following a strong first quarter at IG Group, company management stated that IG continued to perform well in the second quarter. Net trading revenue in the first half is expected to be around 9% higher than in the same period a year ago.
Based on our calculations, given IG's record Revenues of £135.2 million in Q1, IG's Q2-2018 Revenues were good but not quite as strong, coming in at about £131 million. Still, one the best three quarters ever at IG, and just 1% below its all-time best.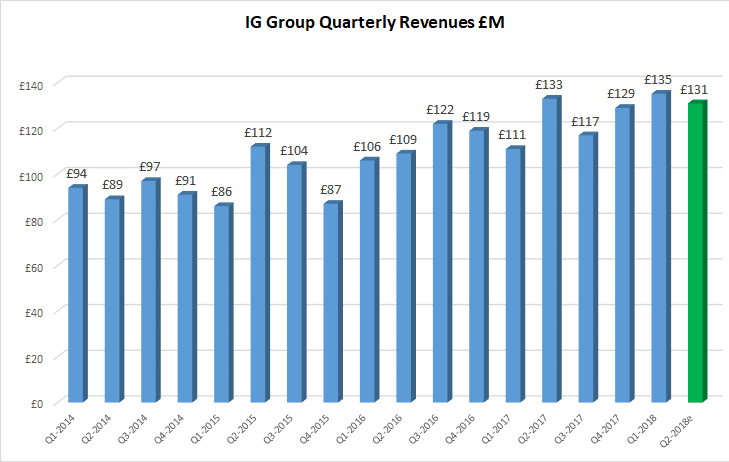 Operating costs excluding variable remuneration in the first half of FY18 are expected to be around 7% lower than in the same period a year ago, primarily reflecting a lower level of advertising and marketing spend. IG said that it is maintaining the guidance given in July that operating costs excluding variable remuneration for the full year are expected to remain at a similar level to FY17.
Regarding the regulatory environment, as previously noted the nature and timing of potential regulatory changes in the UK and some other key markets for the Group remain uncertain.  The Company continues to implement measures to differentiate itself further within the OTC leveraged derivatives industry and to protect the business from regulatory change.  It remains difficult, however, to predict what impact regulatory change may have on the Group this financial year and beyond.