Financial research outlet Investment Trends has released its latest report on the Australia foreign exchange trading sector, showing continued growth of the Retail Forex sector down under.
The latest report is based on a survey of more than 13,000 traders and investors conducted by Investment Trends in November 2016.
Overall, Investment Trends calculated 4% growth in the Australia Retail FX sector, with 50,000 Australians placing at least one trade. And as usual, it was increased market volatility which brought new traders into the market in 2016, with market-moving events such as the January Chinese market mini-crash, the Brexit vote in June and the November US election. According to the Investment Trends report,
The Australian FX industry has returned to growth, in a perfect illustration of volatility-at-work. A third of those who started trading FX for the first time during 2016 said they saw opportunities in market movements that convinced them to take the first step.
As far as the broker competition goes, not too much changed from last year with foreign (mainly UK-based) forex brokers leading the way. UK industry leaders IG Group Holdings plc (LON:IGG) and CMC Markets Plc once again held down the top two market share positions. (We'd also note CMC's recent foray into stockbroking in Australia, with its recently-announced agreement with ANZ).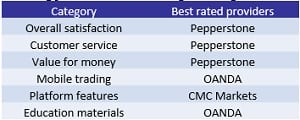 Melbourne-based Pepperstone was the clear overall leader when it comes to customer satisfaction, taking three of the six ranking categories (see table at right). Pepperstone also made the largest market share gain in 2016, becoming the fifth most used Retail Forex broker. And Investment Trends thinks that there's more room to grow, backed by the recent multi-million dollar investment Pepperstone received from CHAMP Private Equity, one of Australia's leading PE firms. According to Dr. Irene Guiamatsia, Research Director at Investment Trends,
Not only did Pepperstone succeed in achieving growth in a fiercely contested environment, but they did so while delivering high levels of client satisfaction. This is a significant development and the competitive response from other providers – or lack thereof – could reshape the landscape in a substantial way.