Retail and Institutional FX brokerage group Gain Capital Holdings Inc (NYSE:GCAP) has announced Q1-2018 results indicating an across-the-board improvement in both top and bottom line results. Quarterly revenues and profits at GAIN Capital were both at multi-year high levels.
GAIN Capital operates the retail Forex.com and City Index online trading brands and the institutional GTX business.
Q1 Revenue at GAIN Capital came it at $106.9 million, up 53% over Q4-2017 and the company's first $100M+ revenue quarter since 2016.
Net profits of $16.2 million in Q1 compares nicely to an $11 million loss the company suffered in all of 2017.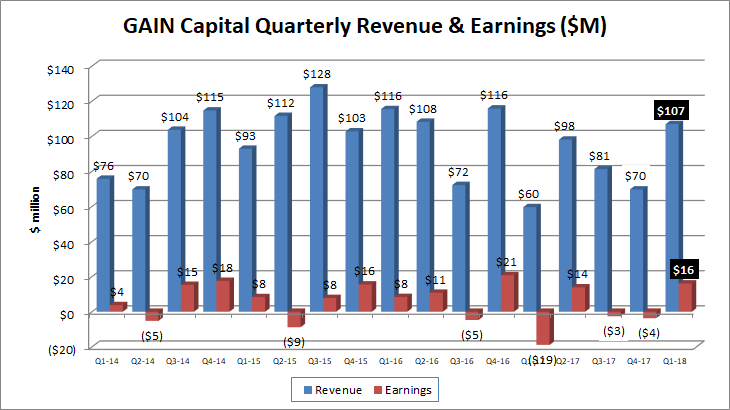 Retail average daily volume increased 31% year-over-year to $12.4 billion. Institutional ECN average daily volume increased 26% year-over-year to a record high of $14.8 billion. New direct accounts increased 24% year-over-year.
Glenn Stevens, CEO of GAIN Capital, commented on the company's Q1 results:
Our strong first quarter financial results are highlighted by 79 percent revenue growth, margin expansion to 31 percent and robust overall operating metrics, especially within our Retail business. A return to more normalized volatility levels provided a market environment in which GAIN was able to showcase the benefits of our investment in organic initiatives over the past year. Customer engagement was up across the board, with Retail average daily volume up 31% year-over-year and Institutional ECN average daily volume up 26% to reach a record high of $14.8 billion. As we look ahead, we are confident that our strategic priorities will continue to position us for long-term growth.
GAIN Capital's full Q1 results report can be seen here.