Shares of Global Brokerage Inc (NASDAQ:GLBR), which owns 51% of Retail FX broker FXCM, continued to move downward on Wednesday tumbling by a whopping 26% on continued speculation that the company is going to have a hard time dealing with its latest crisis. That crisis is the possible delisting of GLBR shares from Nasdaq, if the market value of GLBR's publicly held shares don't exceed $15 million for 10 consecutive business days between now and October 30, 2017.
GLBR is now worth roughly half that amount.
If if doesn't reach that $15 million value (about $2.45 per share) by October 30, and GLBR gets delisted as expected, then that would trigger a "Fundamental Change" as defined by the indenture governing GLBR's Convertible Notes, which could require the company to repurchase all its outstanding $172 million of Convertible Notes for cash.
Cash, which it doesn't have.
We'd also note that a default on the Convertible Notes (at the GLBR company) could also lead to a domino effect at operating company FXCM, as a default on the converts would also be considered an "event of default" under the Leucadia loan (which is at the operating company level, with FXCM). FXCM has worked hard to repay that loan, which is now down to about $66.8 million from its original $300 million amount following the sale of FastMatch to Euronext.
And, even if the delisting issue somehow goes away, those Convertible Notes in any event come due in less than a year, in June 2018. That doesn't exactly give the company a lot of time to come up with that sizable sum of $172 million (FXCM's entire quarterly Revenue is under $50 million), especially since all cash coming to GLBR from its FXCM subsidiary is earmarked for repaying its other big debt, to Leucadia.
As such, GLBR stated in its most recent quarterly filing that the potential delisting and the upcoming maturity of the Convertible Notes within less than 12 months raises substantial doubt about its ability to continue as a going concern. And, that the company is actively working with financial and legal advisers to explore a potential restructuring.
Investors took a few days to digest the latest GLBR results which were released mid last week, but it seems clear that those still holding GLBR shares are heading for the exits.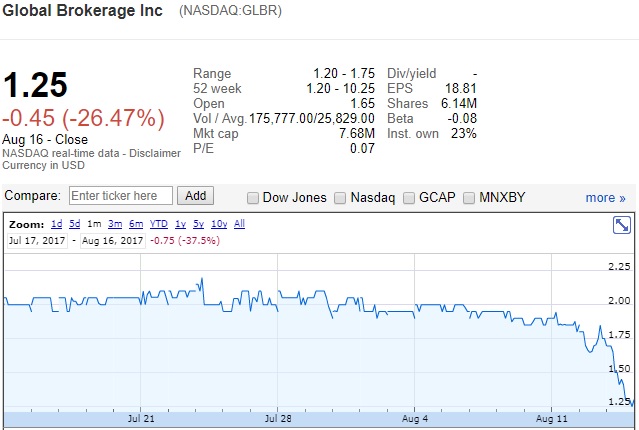 GLBR share price, past month. Source: Google Finance.