Retail Forex broker FXCM has announced its volume results for February, the last month for which FXCM had both US and non-US volumes to report. FXCM sold its US client base to rival Gain Capital Holdings Inc (NYSE:GCAP) and its Forex.com retail FX unit at the end of February, after the company and CEO Drew Niv were banned from the US Forex market for misleading customers about the nature of the company's (supposed) no-dealing desk execution.
FXCM's non-US February volumes came in at $201 billion, down 21% from January and the company's lowest monthly result since 2015.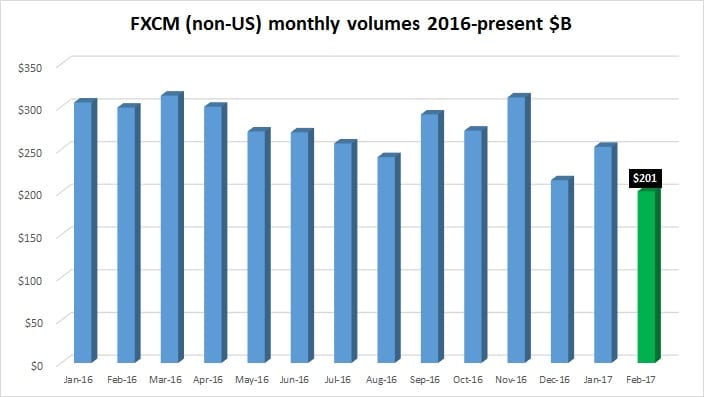 US volumes at FXCM, now handed over to Forex.com, were no better, down 39% from January to just $38 billion.
To be fair, February was a down month for volumes in the 10% range for most retail and institutional eFX trading venues. However FXCM's drop in both the US and internationally seems steeper than the declines elsewhere. It will be interesting to see come next month whether the reputational damage caused by FXCM's problems in the US, and the resignation of its longtime CEO Drew Niv, have affected the business and trading volumes elsewhere.
We'd remind our readers that the volumes being reported are for the operating company FXCM Group LLC. FXCM Group is owned 50.1% by Global Brokerage Inc (NASDAQ:GLBR) and 49.9% by Leucadia National Corp (NYSE:LUK).