Retail forex broker FXCM Inc (NASDAQ:FXCM) has reported its January trading volumes – which is a more interesting report than in most months, since for the first time FXCM has broken out its US versus rest-of-world data, in the wake of the sale of FXCM's US client base to rival Gain Capital Holdings Inc (NYSE:GCAP).
That sale, of course, was precipitated by the ban imposed on FXCM and its CEO Drew Niv from the US forex market, in settlement of charges that FXCM misrepresented its no-dealing-desk execution model to clients.
Overall, January was a fairly good month at FXCM, with total volumes coming in at $315 billion – $62 billion from the US and $253 billion from rest-of-world.
FXCM's US-only volumes, as we estimated in our earlier reports detailing the sale, have been fairly steady over the past year, hovering in the $50-60 billion per-month range. November 2016 was a particularly active month, thanks largely to the US Presidential election and the currency volatility which ensued.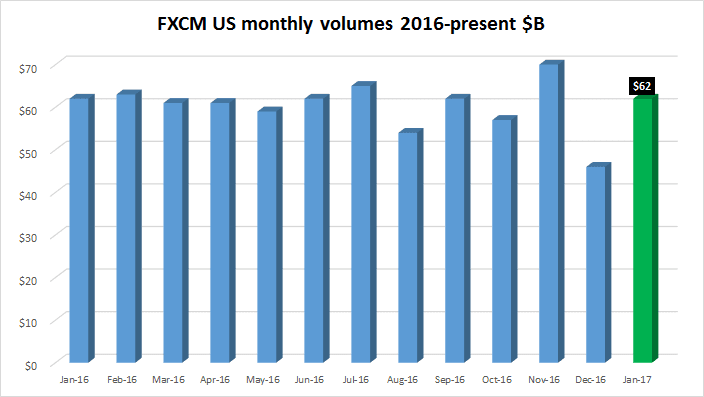 FXCM reported that it has (or rather, had) 46,764 active US clients. FXCM defines an 'active' client as one who has traded at least once in the past year.
As far as rest-of-world goes, volumes have been steadily declining at FXCM over the past year, from the $300 billion per month range down to the low $200's, with January as noted being a fairly good month.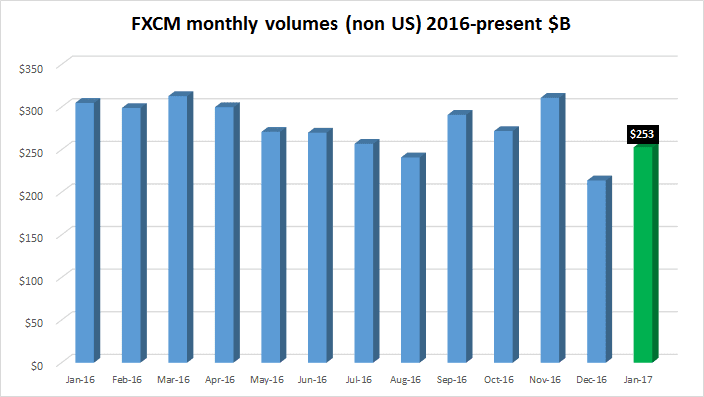 Interestingly, FXCM decided to stop breaking out Retail versus Institutional clients in its data.
Most interesting to see will be FXCM's trading volumes post-US client sale, and whether or not the company's troubles in its home US market will affect operations abroad. We'll see in the coming months.
The full data set released today by FXCM reads as follows:
---
February 15, 2017
FXCM Reports Monthly Metrics
FXCM Inc. (NASDAQ:FXCM) today announced certain key customer trading metrics for January 2017 for its retail and institutional foreign exchange business, excluding Forex Capital Markets LLC, ("FXCM US").
January 2017 Customer Trading Metrics from Continuing Operations (excluding United States business because of imminent accounts sale and business withdrawal)
Customer Trading Metrics
Customer trading volume (1) of $253 billion in January 2017, 18% higher than December 2016 and 17% lower than January 2016.
Average customer trading volume(1) per day of $12.0 billion in January 2017, 18% higher than December 2016 and 21% lower than January 2016.
An average of 488,917 client trades per day in January 2017, 15% higher than December 2016 and 18% lower than January 2016.
Retail Active accounts (2) of 132,008 as of January 31, 2017, a decrease of  448, or 0.3%, from December 31, 2016, and an increase of 1,281, or 1%, from January 31, 2016.
Retail Tradeable accounts (3) of 106,206 as of January 31, 2017, an increase of 624, or 0.6% from December 31, 2016, and a decrease of 2,887, or 3%, from January 31, 2016.
(1) Volume that FXCM customers traded in period is translated into US dollars.
(2) An Active Account represents an account that has traded at least once in the previous twelve months.
(3) A Tradeable Account is an account with sufficient funds to place a trade in accordance with FXCM trading policies.