LeapRate Exclusive… LeapRate has learned via regulatory filings made in Poland that Warsaw based X Trade Brokers Dom Maklerski SA (WSE:XTB), which operates Retail Forex broker XTB.com as well as the X Open Hub trading platform, has continued its quite unusual pattern of up-and-down performance with a very slow quarter to begin 2017.
XTB has indicated in a preliminary filing, ahead of the company's planned release of full Q1 results due in mid May, that revenues fell by 38% from Q4-2016's record levels, coming in at PLN 58.7 million (USD $15.1 million) for the quarter.
The company gave no explanation for the poor quarter, other than saying that the nature of the retail forex industry is very variable. The company's quarterly revenue chart over the past two years indicates the up-and-down roller-coaster ride XTB has been on: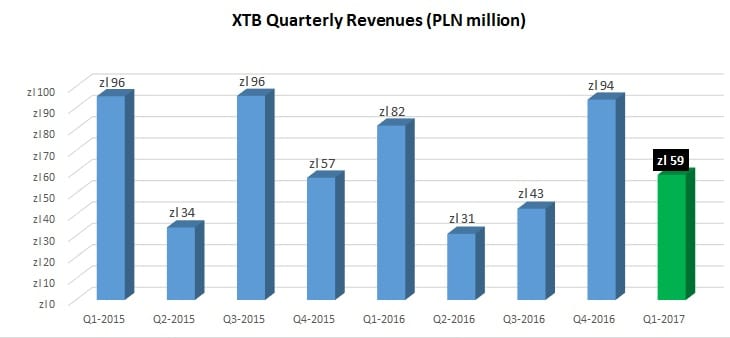 Digging deeper in the filing, it appears as though the large fall in Revenues is attributable to a sharp drop in FX trading. Index CFDs accounted for nearly 75% of trading revenues at XTB in Q1, or PLN 43.2 million, while Spot FX trade related revenues fell from PLN 39.5 million in Q4 to just PLN 11.8 million in Q1.
Our analysis is that this does not reflect a drop in trading volumes (certainly not by a factor of 4x!) at XTB, but rather indicates that the company acts as market maker without engaging in much outside hedging, especially in its FX business, making results highly volatile.
XTB recently underwent a change in senior management. As was exclusively reported by LeapRate in early January, XTB decided to part ways with its CEO Jakub Maly after the company posted poor results in mid-2016, and saw its share price languish following the company's IPO.
XTB went public on the Warsaw exchange last May at a valuation of about $350 million. However the company's shares have drifted downward, trading now in the zl 8.20 range, off about 28% from their zl 11.50 IPO price. The company then confirmed Omar Arnaout as its new CEO in late March. Mr. Arnaout had been with the XTB group since 2007, starting as a Junior Dealer and working his way up the ranks since.
Back to the Q1 results at XTB… on the positive side of things, the company did manage to turn a net profit of PLN 10.6 million ($2.7 million) in Q1, although well down from 50.4 million PLN reported in Q4. Key long-term metrics were also positive, with the company reporting:
13,280 new accounts opened in Q1, versus 9,624 new accounts in Q4
20,408 active accounts in Q1, versus 19,376 active accounts in Q4
PLN 107.8 in net client deposits, slightly below Q4's PLN 116.8 million..
Despite the lower Revenue figure XTB management noted a positive outlook tone in the filing, stating that it planned to push ahead with geographic expansion, especially in Latin America. XTB also foresees industry consolidation ahead in the retail forex sector, and stated that it sees opportunity ahead as a consolidator.
The company indicated that it continues with cost cutting and employee attrition programs, with employment levels down to 387 people from 406 last year.
The company will release more details of its Q1 results in English in the coming days, we will update.