Exness Marketing Director, Igor Rudi, alongside director of Institutional Relations for Real Madrid, Emilio Butragueño, and first team players Benzema, Kroos, Vallejo and Achraf, presented the partnership agreement signed between the FCA and CySEC regulated retail forex broker Exness and the iconic football club just over two months ago.
Another partnership with Cristiano Ronaldo was announced right after.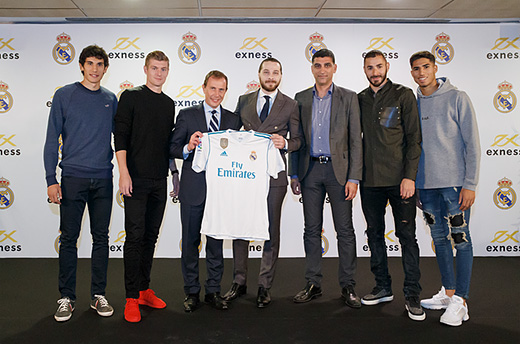 The event, which took place at the presidential box at the Santiago Bernabéu stadium, hosted an official presentation of the partnership agreement, with both parties expressing words of mutual respect.
Real Madrid does not sit stagnant, it keeps we keep searching for excellence and we face every new challenge with the desire to add to the legend of madridismo. That is why it is so important to choose our partners, as they too must be on the road to success", said director of Institutional Relations for Real Madrid, Emilio Butragueño.

Our partnerships need to be the best, and that is why today we are thrilled to be able to present Exness as one of Real Madrid's strongest allies. They are clear leaders in their sector and they share our search for excellence. This is a three-year deal but we really hope we will continue as partners for much longer.
Exness Marketing Director Igor Rudi also commented on the partnership, saying:
Exness are really excited to sign a deal with Real Madrid. Thank you to all who have made this possible. Real Madrid is an example of leadership and excellence and this is one of the best opportunities for us to further our company.