Continuing a fairly strong month for volumes we have been seeing from leading retail and institutional eFX industry trading venues, CySEC and FCA regulated broker Exness has reported that forex volumes in its system increased by 8% in May, coming in at $253.1 billion.
While as noted that is a nice increase over April, it is still below the record $313.7 billion of trading volumes which Exness set in March.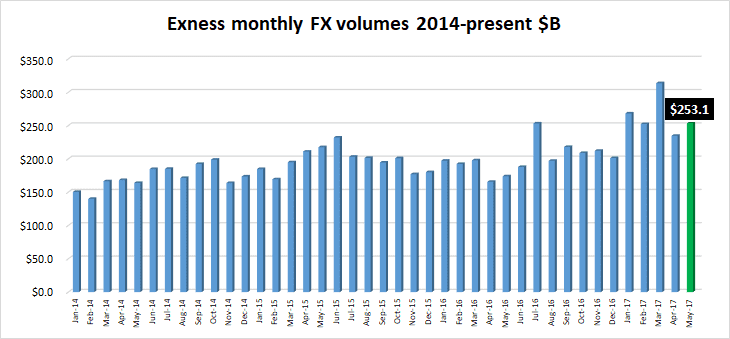 Exness saw 45,053 active traders in May, up from 44,466 in April, but still off March's record of 46,112.
We would note that during May we exclusively reported that Exness has made an application to the UK financial regulator FCA to increase the scope of its FCA-licensed arm, Exness Europe Limited (Exness UK). Assuming that regulatory approval is received, Exness UK will begin operation no later than September 2017.
Overall for Q1, Exness honoured $99.4 million in client withdrawals, and paid out $13.3 million in payments to partners, mainly introducing brokers. We'd note that Exness has its volume, client withdrawal and partner rewards figures audited on a quarterly basis by global accounting firm Deloitte. The Deloitte Independent Assurance Report for the most recent quarter (Q4-2016) for Exness can be seen here.