Last week USD had its biggest weekly fall since the US presidential election, caused by Trump's Russia leak scandal.
This week markets' risk-off sentiment has been slightly eased.
On May 18th USD/JPY hit a low of 110.22, last seen on April 25th.
Notably, the downtrend has held above the significant support line at 110.00.
Bulls have further recovered to the the next psychological resistance level at 111.00, indicating bullish momentum has been increasing.
The daily Stochastic Oscillator is around 30 which suggests a rebound.
The resistance level is at 111.70 followed by 112.00 and 112.20.
The support level is at 111.00 followed by 110.70 and 110.50.
If there are further adverse findings from the FBI's investigation on Trump's Russia leak scandal it will likely restrain the bullish momentum of USD/JPY.
Conversely, without further adverse findings, we will likely see a rebound of USD/JPY.
Keep an eye on the US economic data on Tuesday at 15:00 BST and the FOMC Minutes on Wednesday at 19:00 BST as it will likely affect USD and USD crosses.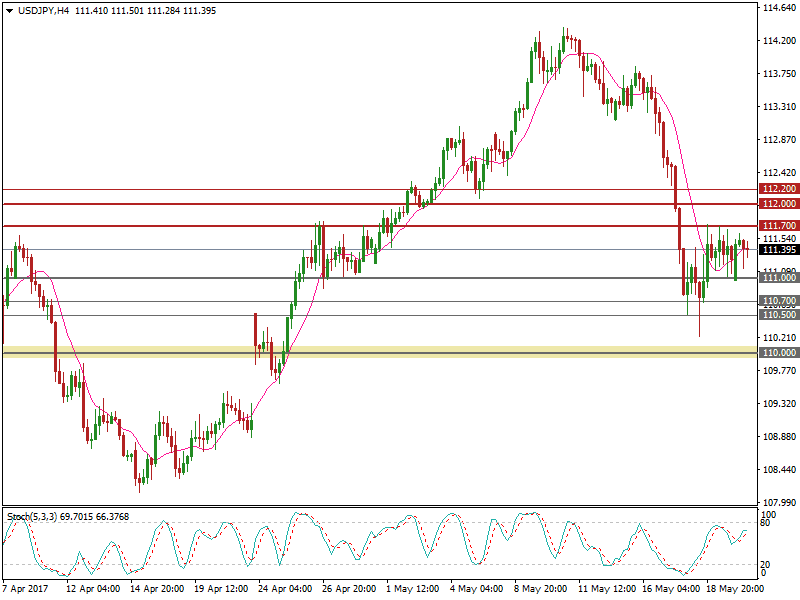 The following two tabs change content below.

FxPro
Professional daily Forex market reviews and analysis from the team at
FxPro
FxPro was founded in 2006. Since then, we have grown exponentially and currently serve retail and institutional clients in more than 150 countries from our offices in the United Kingdom and Cyprus.

Latest research from FxPro (see all)