US Pending home sales (YoY) released yesterday saw a 3.3% drop in April, from a 0.8% growth in March, marking the biggest drop since June 2014.
After the release of the data USD weakened across the board. USD/JPY hit a 2-week low of 110.47.
On Thursday, June 1st, in early European trading session, the USD/JPY bulls have regained momentum due to the rebound of USD.
On the 4-hourly chart the USD/JPY bulls have breached the near-term major downtrend line resistance, where another resistance level at 111.00 converges, indicating increased bullish momentum.
If the bulls can successfully hold above the level at 111.00 we will likely see USD/JPY continuing edging up.
The resistance level is at 111.20 followed by 111.40 and 111.70.
The support line is at 111.00 followed by 110.70 and 110.50.
The crucial US ISM manufacturing PMI for May will be released this afternoon at 15:00 BST with a market consensus 54.5 after the previous reading of 54.8.
It has remained above 50 since October 2016 but has experienced a falling trend over the past three months. Be aware that it will likely cause volatility for USD/JPY.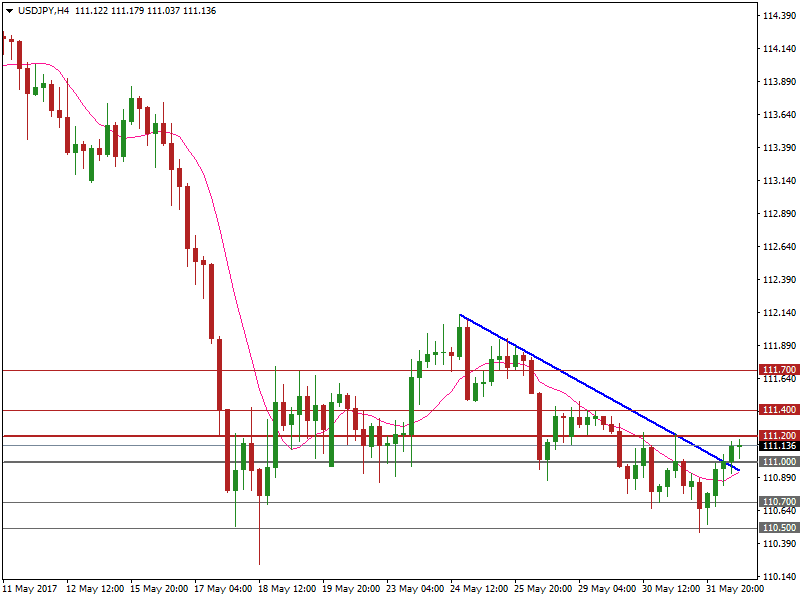 !–:–>
The following two tabs change content below.

FxPro
Professional daily Forex market reviews and analysis from the team at
FxPro
FxPro was founded in 2006. Since then, we have grown exponentially and currently serve retail and institutional clients in more than 150 countries from our offices in the United Kingdom and Cyprus.

Latest research from FxPro (see all)