Safe havens have strengthened across the board as the recent risk events have lifted markets' risk off sentiment. Notably the London terror attack, gulf states cut diplomatic ties with Qatar, and the upcoming UK general election.
Spot gold has seen a significant 6% gain since May 11th. On Tuesday, June 6th, spot gold rallied 1.1%, hitting a high of $1293.54, last seen on April 17.
The bulls still have momentum; on the 4-hourly chart the price is still holding above the downside upward-heading 10-SMA support.
Notably, the price is currently trading at the mid-term major resistance zone between 1290 – 1300. Be aware that pressure at the significant psychological resistance level at 1300 is heavier than other resistance levels.
It is likely that the bulls will test the resistance at 1300 ahead of the general election.
The UK general election will be held on June 8th, which is only 2 days away. Be aware that the election uncertainty will still likely cause volatility for gold prices before and after the release of the election outcome.
The resistance level is at 1295, followed by 1300.
The support line is at 1290, followed by 1287, followed by 1283.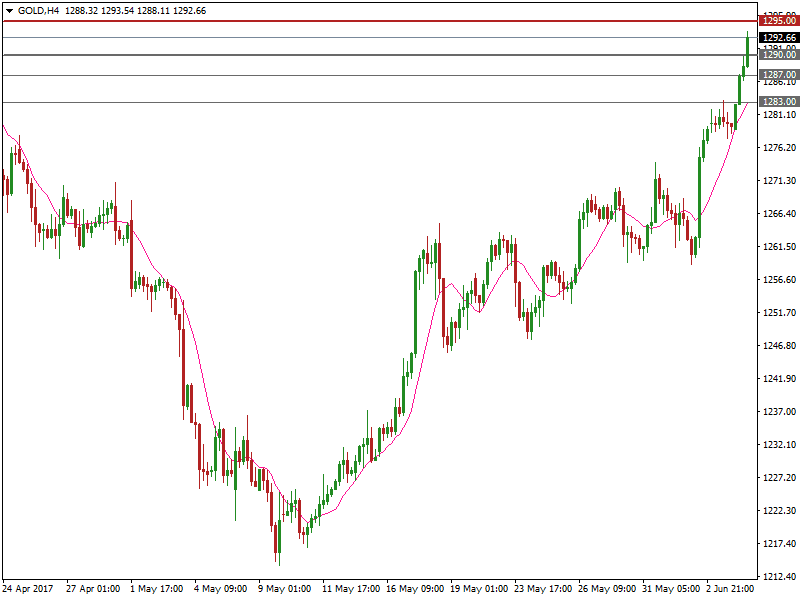 The following two tabs change content below.

FxPro
Professional daily Forex market reviews and analysis from the team at
FxPro
FxPro was founded in 2006. Since then, we have grown exponentially and currently serve retail and institutional clients in more than 150 countries from our offices in the United Kingdom and Cyprus.

Latest research from FxPro (see all)