The European Central Bank's (ECB) rate decision and press conference is scheduled at 12:45 and 13:30 BST respectively on Thursday, June 8th.
Earlier today, Bloomberg unexpectedly reported that the ECB will cut its inflation forecast at tomorrow's meeting due to falling energy prices.
The annual inflation forecasts announced in March foresaw rates of 1.7%, 1.6% and 1.7% in 2017, 2018 and 2019 respectively. The new inflation outlook reported today was revised lower, around 1.5% annually.
The unexpected news triggered market concerns over tomorrow's ECB meeting resulting in EUR/USD falling sharply, around 0.6%, to 1.1203.
The bearish momentum was held currently above the psychological support line at 1.1200.
On the 4-hourly chart, the 10-SMA is crossing the 20-SMA downward suggesting increased bearish momentum.
The daily Stochastic Oscillator is above 70 suggesting a retracement.
The resistance level is at 1.1250 followed by 1.1280.
The support line is at 1.1200 followed by 1.1170.
The Eurozone economy has seen a sound recovery. However, as inflation has not yet seen a stable pickup, the ECB is likely to keep current monetary policy unchanged until seeing inflation reaching it's 2% target, before gradually removing QE.
Be aware that the ECB's press conference on Thursday will likely cause volatility for EUR crosses again.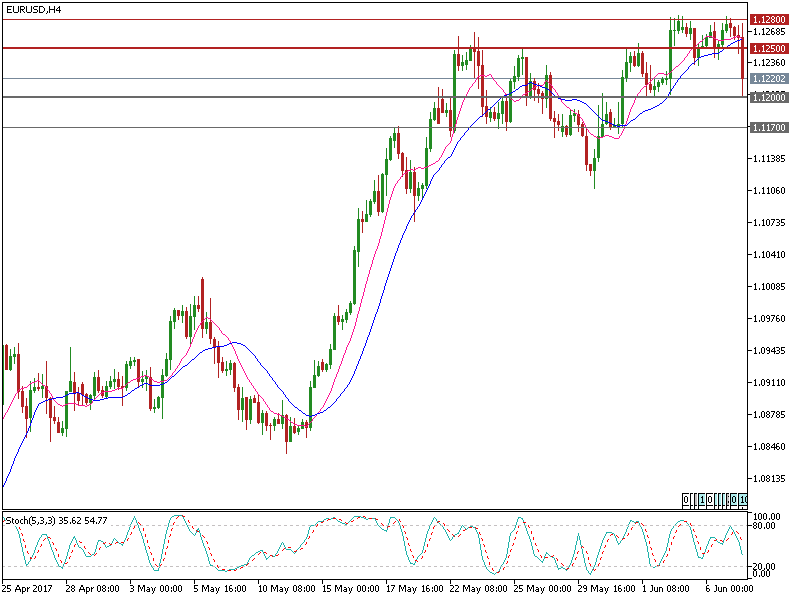 The following two tabs change content below.

FxPro
Professional daily Forex market reviews and analysis from the team at
FxPro
FxPro was founded in 2006. Since then, we have grown exponentially and currently serve retail and institutional clients in more than 150 countries from our offices in the United Kingdom and Cyprus.

Latest research from FxPro (see all)