ASIC and FCA licensed Retail FX broker AETOS Capital Group have provided their daily commentary on traditional markets for April 26, 2019. 
---
EUR/USD
USD strength has continued to surge overnight and climbed to a near two-year high against the Euro dollar. This was inspired by upbeat U.S. data from both the initial jobless claims and durable goods orders. Demand for the greenback is increasing as traders anticipate the release of today's GDP data for the first quarter of 2019.
At the close, the euro fell 0.18% to $1.1132, its lowest since May 2017.
The US economy continues to benefit from weak data abroad coupled with domestic data beating expectations.
Breaking the overnight release showed new orders for U.S.-made capital goods increased by the most in eight months in March. That follows other recent U.S. data that show strength in retail sales and exports which have eased concerns of a sharply slowing U.S. economy (Reuters).
The Euro, however, has been dragged through political concerns, Brexit and inflation worries which has placed the health of the euro zone economy is serious doubt.
EUR/USD Daily Chart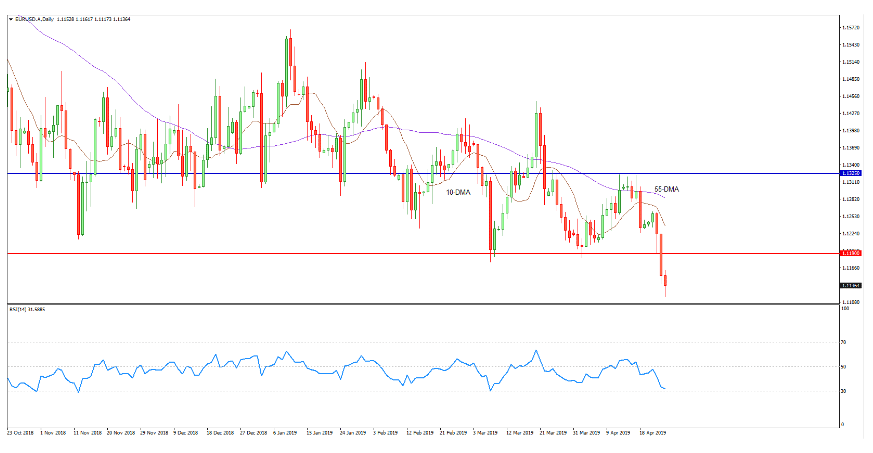 We have been speaking about Euro uncertainty, so the new long-term low and falling RSI keep bear sentiment elevated. RSIs are biased down but daily RSI is near oversold. A long lower wick forms on today's candle. The long lower wick & daily RSI could indicate a bounce is due so look to find sell opportunities on short term rallies.
USD/JPY
Meanwhile, JPY investors would be delighted to see the USD fall 0.48% overnight as the Bank of Japan put a time frame on its forward guidance for the first time, essentially advising investors that it would keep the country's interest rates at super-low levels for at least one more year.
The USD drop was countered by the strong rise in the underlying U.S. capital goods orders in March which was actually short lived as the JPY continued to gain momentum.
The U.S. economy is however carrying a bit more momentum into the second quarter with strong data and solid retail sales last month. Many thought that the Fed's patience earlier this year would weaken the dollar but the fact remains that rates in the U.S. are still more attractive than many counterparts.
JPY strength will be tested as investors await the release of U.S. gross domestic product data, relating to the first three months of 2019, for further signs of whether the country remains stronger than other leading economies.
USD/JPY Daily Chart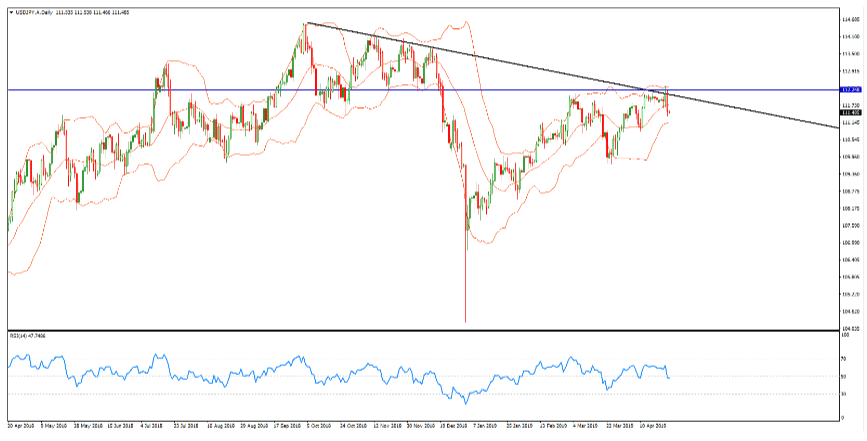 After a week of flat trading and bolls converging to then break on the upside, volatility has returned to the pair. The downside trendline from the 2018 highs is being tested and a break of the lower boll line could send the USD to 111.00 and beyond. With GDP data being released today and further JPY inflows post BoJ announcement, the pair will likely be driven by fundamentals for the next 24 hours.
---
Risk Disclaimer
The information above is of general nature only and does not take into consideration your objectives, financial situation or investment needs. The products and services provided are issued by AETOS Capital Group Pty. Ltd. (AFSL: 313016, ACN: 125113117). Trading Forex margin and CFDs carries a high level of risk, and losses can exceed your deposits. You are strongly recommended to seek independent financial advice before you make an investment decision. Please refer to our Product Disclosure Statement which you can obtain from our website for more details. AETOS has the ownership of the contents of this FX commentary. Copying, reprinting or publishing to a third party is not permitted.