ASIC and FCA licensed Retail FX broker AETOS Capital Group have provided their daily commentary on traditional markets for May 23, 2019. 
EURUSD
The Euro closed lower on Wednesday, closing at 1.1155(-9 pips) against the greenback. The euro was influenced heavily with Brexit yesterday, leaving the EUR/USD pair confined to familiar levels, with the range exacerbated by the lack of relevant news. Indeed, the US Federal Reserve released the Minutes of its latest meeting in the US afternoon but failed to surprise reaffirming the 'patient' stance. The statement was overshadowed ahead of the release by Powell's comments late Monday, indicating that policymakers are in no rush to make a move, even if the economy improves. Tensions between the US and China escalated following a report indicating that the US Government is studying to add to a blacklist some Chinese surveillance tech firms. The market's sentiment deteriorated as the day went by, leading to losses in European and American indexes. The European macroeconomic calendar will be quite busy this Thursday, offering German Q1 GDP, expected to be confirmed at 0.4% for the first three months of the year, and the preliminary May's Markit PMI for both Germany and the EU. Although manufacturing output is still foreseen in contraction territory, the indexes are expected to post modest recoveries when compared to the previous month.  Germany will also publish the May IFO Business Climate survey, seen decreasing to 99.1 vs. the previous 99.2. The US session will bring the usual weekly unemployment figures, New Home Sales, and the Markit preliminary PMI for May.
EURUSD 4 Hour Chart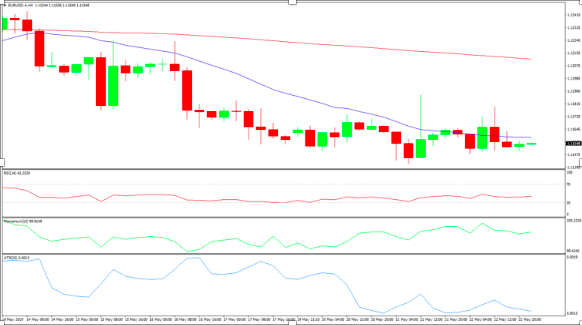 In the short term, and according to the 4 hours chart, the bearish potential is also present, as the price seesaws around a mild bearish 20 SMA and below the larger ones, while technical indicators lost their upward strength after reaching their midlines, lacking clear directional strength yet leaned lower.
Risk Disclaimer
The information above is of general nature only and does not take into consideration your objectives, financial situation or investment needs. The products and services provided are issued by AETOS Capital Group Pty. Ltd. (AFSL: 313016, ACN: 125113117). Trading Forex margin and CFDs carries a high level of risk, and losses can exceed your deposits. You are strongly recommended to seek independent financial advice before you make an investment decision. Please refer to our Product Disclosure Statement which you can obtain from our website for more details. AETOS has the ownership of the contents of this FX commentary. Copying, reprinting or publishing to a third party is not permitted.