The following guest post is courtesy of Reem Aboul Hosn, Research and Market Analyst Officer at CFI Markets Ltd.
Do you have an idea for a guest post? Want your article to be viewed by the hundreds of thousands of viewers who regularly visit LeapRate and receive our daily email newsletter? Let us know at [email protected].
---
Catalan is one of the wealthiest regions of Spain, accounting for 19%, or €209 billion, of Spain's GDP that totals to €1 trillion, profiting from sectors of tourism, exports, manufacturing, and industry.
Catalonia would nail back 8% GDP growth if it didn't have to hand over its taxes to the Spanish government, as it contributes much more in taxes (20% of the country's total) than it gets back from the government.
It would have a GDP of €297 billion, according to calculations by the OECD, which would make it among the top ten wealthiest countries of Europe.  Its GDP per capita would be €35,000, which would make it wealthier than Italy and France.
Separation would therefore cost Spain 20% of its economic output, and trigger chaos about how Catalonia would return €52.5 billion of debt it owns to the country's central administration.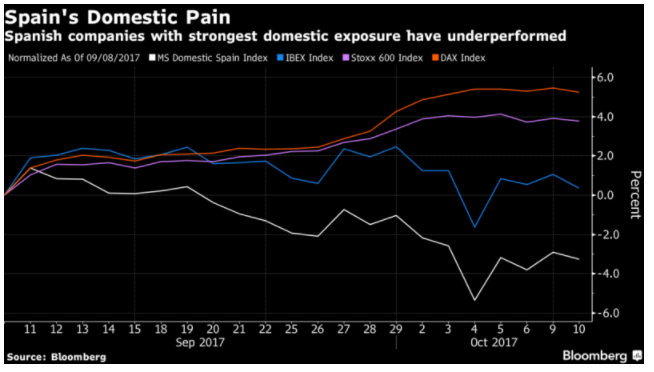 Besides, Catalonia may lose its EU membership and consequently, the cost of exporting goods, produced locally, would increase to EU members and other nations.
Being an attractive investment hub, Barcelona is the home of nearly third of all foreign companies in Spain, constituting a big chunk of the stock market. European Stocks gained momentum after Cataloni's president Carles Puigdemont, stopped short the independence declaration from Spain, consenting for negotiations with Madrid.
Nonetheless, investors will be fearful of the Spanish Stock market while the Catalan question hangs on.