The following article was written by Reem Aboul Hosn, Research and Market Analyst Officer at Credit Financier Invest (CFI) Ltd.
---
Despite a slight recovery in oil prices at the beginning of 2019, low oil prices could have a negative effect on Canadian economy this quarter.
In October 2018 too many uncertainties pressured oil prices from their peak price at USD75 a barrel, now trading at USD45 a barrel, a 39% plunge in just two months.
The fear of oil oversupply, concerns about global economic growth and the next moves in the U.S.-China trade war are among the top factors at stake. With no short term recovery in oil prices and Bank of Canada not planning to increase rates anytime soon, can we deduce a long USD/CAD pick?
The Three main reasons behind the downfall of Canadian dollar — or loonie are as follows:
Low oil prices: Even though oil prices are expected to eventually move higher in 2019 due to the agreement by OPEC members to cut production from January 2019. The effect could take months before any significant rise in oil price.
Equity market weakness: There are concerns over a possible recession and heightened volatility in the US equity markets, leading to a risk-off environment. We saw a surge in demand in yen and swiss franc which are safe-haven currencies.
Bank of Canada decision in 2019: In December, during the bank's monetary meeting, it announces any future move in interest rate is data dependent. In November, Canada's labor market added significant number of jobs and the best since April 2010. Furthermore, unemployment rate was at a 40-year low and all of this has helped to encourage strong GDP growth. This should be followed by fiscal stimulus ahead of the October 2019 general election where Prime Minister Trudeau is expected to win easily.
All in all, USD/CAD should continue to head higher into 2019 until we see oil prices start to rise which could also justify a potential interest rate hike. In October 2018, the Bank of Canada raised its interest rate to 1.75% and announced a lifting benchmark rate over coming quarters, potentially taking the cash rate up to 3.5%. December however, revealed disappointing economic figures and a retreat in oil prices which can change the decision in January.
Technical analysis and the correlation of WTI/USD to USD/CAD:
The USD/CAD fell below the 1.35 for the first time since December. Crude oil prices gained traction in the first week of 2019 with WTI rising above 48 to its highest level since December 20, while USD/CAD dropped to to 1-1/2 week lows, testing 23.6% Fibo.
Inverse Correlation between WTI/USD and USD/CAD: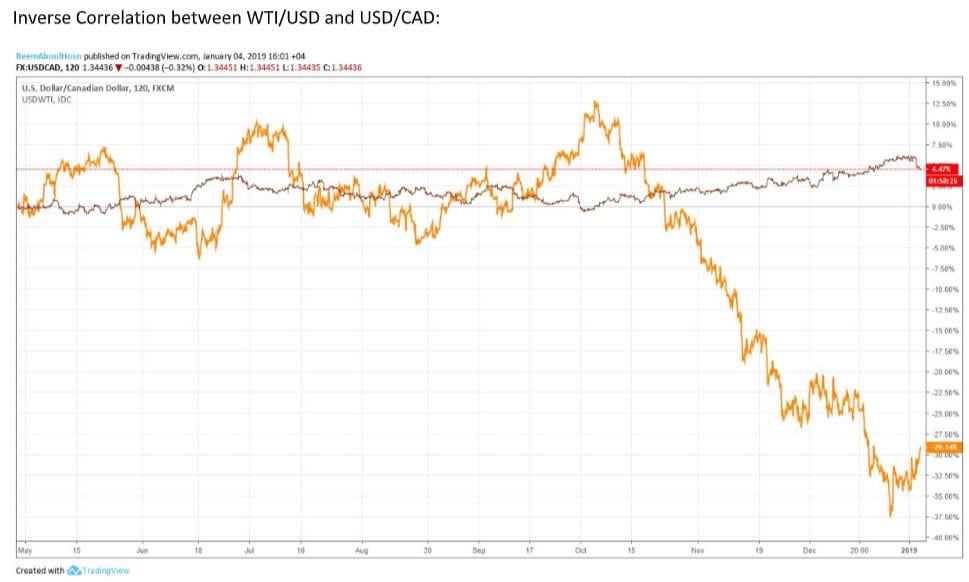 ---
CFDs are complex instruments and come with a high risk of losing money rapidly due to leverage. 75% of retail investor accounts lose money when trading CFDs with this provider.You should consider whether you understand how CFDs work and whether you can afford to take the high risk of losing your money.