The following article was written by Oskar Pecyna, CEO of IFM Trade.
---
Blockchain and Cryptocurrencies are a hot topic recently being widely discussed in the mainstream media. While Ether and Bitcoin are being purchased mainly by individual investors, the combined value of all Ether and Bitcoin is now worth more than the market capitalisation of PayPal and is considerably approaching the size of Goldman Sachs.
But what is the story behind this hype? In simple terms investors buying Ether are placing a bet that people and companies will want to use the Ethereum computing capabilities and will need the Ether to do so. On the other hand Bitcoin has made its way to the mainstream commerce, with companies like Subway or Expedia accepting Bitcoin for purchases.
Bitcoin is renowned but Ether is becoming a pretender to take over the leader position of the cryptocurrencies market. It has already surpassed long established Litecoin which was the second biggest cryptocurrency of the world for years. A number of investors are now focusing on Ripple and Dash seeing the potential, following the growths obtained by Etherum and Bitcoin. The best strategy would be to diversify and potentially switch long and short positions on single cryptocurrencies as there seems to be a lot of volatility on the market which affects each of those currencies differently.
Currently after weeks of growth it seems that the cryptocurrency market is facing a correction. It might be bad news for the holders of the actual cryptocurrency, but a great opportunity for traders on cryptocurrency based CFDs giving a flexibility of short sell and leverage position when needed.
Just recently, the cryptocurrency powering Ethereum blockchain was heading towards the title of the world's largest by market capitalisation, making Ethereum the most valuable public blockchain. But, suddenly in mid-June its price dropped from $415 peak to $292 in 24 hours, an impressive 32% decline. Due to this move, Ethereum's market cap fell to less than 62% of bitcoin's, down from more than 82% mid-month.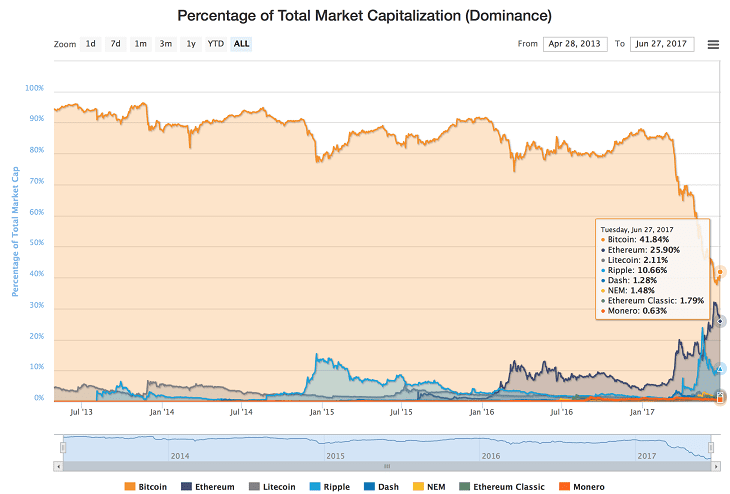 Source: Coinbase and coinmarketcap
As of today, ETH/USD is traded at $236.30 as shown above (as of 08.46 a.m. GMT) which started off its trading day with a 5.09% depreciative value.
Acknowledging the influx of media coverage of cryptocurrencies, Oskar Pecyna, CEO of IFM Trade, indicated that IFM Trade sees an increased interest in CFDs based on cryptocurrencies. Being one of the few platforms covering such a wide scope of them (Bitcoin, Litecoin, both Euthereum types, Dash and Ripple) it naturally attracts traders interested in diversifying their portfolio into multiple cryptocurrencies. "We offer leverage that allows entry into the cryptocurrencies trading with a smaller starting capital. Such structure combined with a short selling option is an interesting set-up for traders expecting corrections on the rallying cryptocurrency prices.", he said.
Previously, analysts have envisaged that Ether would surpass Bitcoin, estimating in some cases that this could take place during this year. And despite Ether's recent price drop, many analysts still believe this will be the case.
Tim Enneking, managing director of Cryptocurrency hedge fund, Crypto Asset Fund, was quite sure that Ether is still on track to becoming the market leader: "Ethereum will still take over top spot in terms of market cap from Bitcoin before the end of the year," and he called recent Ether price movements "a bit of consolidation before the next push".
Marius Rupsys, a cryptocurrency trader and co-founder of fintech startup InvoicePool, offered a similar opinion: "I still believe that [Ether] is moving to become largest by market cap. It will not happen in a day, but it is getting there," he said.
With Ethereum's next challenge to reach $467, Bitcoin's change in vitality in recent times has had an inflated impact on Ethereum which currently has a lot of interest from the financial industry. Will it continue with this significant growth? Time will tell.