Mati Greenspan, Senior Market Analyst at FX broker eToro, has provided his daily commentary on traditional and crypto markets for June 13, 2019. The text below is an excerpt and does not contain the full analysis.
---
Going from local to global has been the norm throughout history but crypto has changed that in a very sudden way, leaving financial regulators at a bit of a loss. Well, it seems they're hitting back now.
For the first time in history, we have an entire asset class which is global in nature. As there is no financial regulation that has effective authority over the entire world, so far each country has had to scramble to write their own rules.
The Financial Assets Task Force (FATF) in France now seems to feel like they have what it takes to crack down on those who might use crypto to launder money.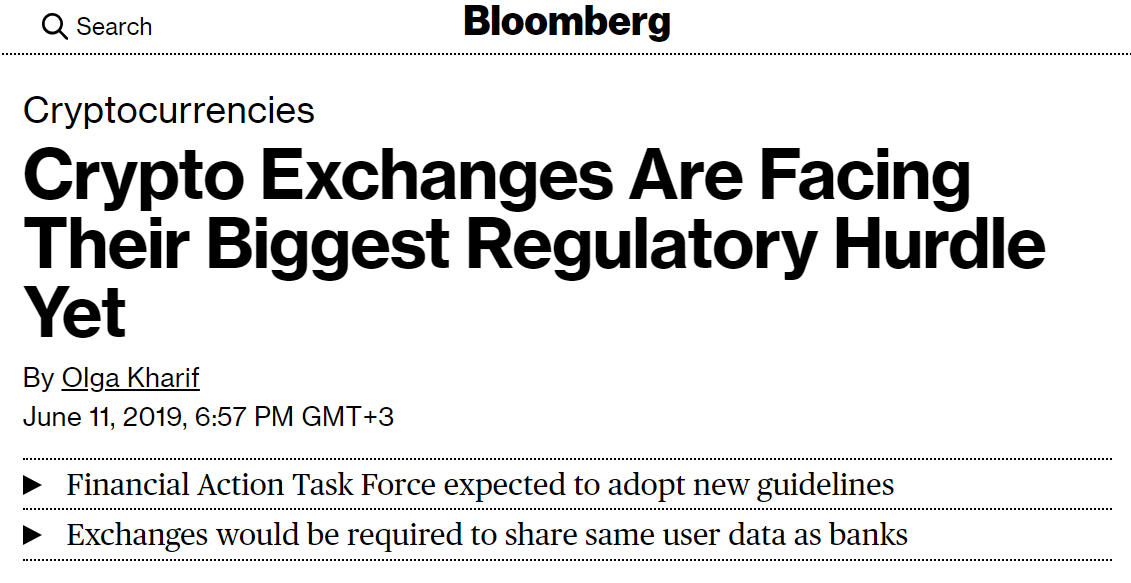 As Bloomberg reports, on June 21st FATF will publish a note asking all crypto exchanges to comply with international banking laws.
Depending on what is announced, this has the potential to shake up the entire financial world, not even just crypto. Compliance with the new regulations could be costly for exchanges, but also could have a knock-on effect on traditional financial institutions or even countries who have limited resources to begin with. Non-compliance with these type of regulations often causes small countries to end up on blacklists and doing further damage to their economies.
Furthermore, it's difficult to understand what FATF is exactly trying to accomplish here. Cryptocurrencies operate independently of financial institutions, no rules or regulations are likely to change that. All they're likely to end up doing is to make things more difficult for legitimate players and force the criminals further underground.
Will this be the first cannon fired in a prolonged war between new and traditional finance? I guess we'll find out next week.
Today's Highlights
FATF to Take on Crypto: The Financial Action Task Force will publish a note next week asking all crypto exchanges to comply with international banking laws. This could cause problems for legitimate players trying to do business and even small countries' economies.
Does Anything Drive Crypto Prices? New research suggests that there are no real market drivers for crypto, and that it doesn't react to news the way that stocks or commodities would. However, crypto charts have shown that simple technical indicators and global mainstream adoption are always significant.
Stocks Rebound, Oil Reacts to Possible Terrorist Attack: Global stocks have resumed their June rally, while an incident in the Gulf of Oman may have established a floor for oil prices, which have been falling over the last few weeks.
Please note: All data, figures & graphs are valid as of June 13th. All trading carries risk. Only risk capital you can afford to lose.
Traditional Markets
Stocks are rebounding today after showing some signs of weakness yesterday and this morning, it seems everything is back on track by midday.
The square in front of the legislative council in Hong Kong has been cleaned up and by now there is no sign of yesterday's clashes, save for the footage circulating the web. Leaders have decided to hold off on the extradition debate for the time being, which does seem like a win for the protestors even if it's not the annulment they were looking for.
As of this writing, the June rally in global stocks seems to be back on.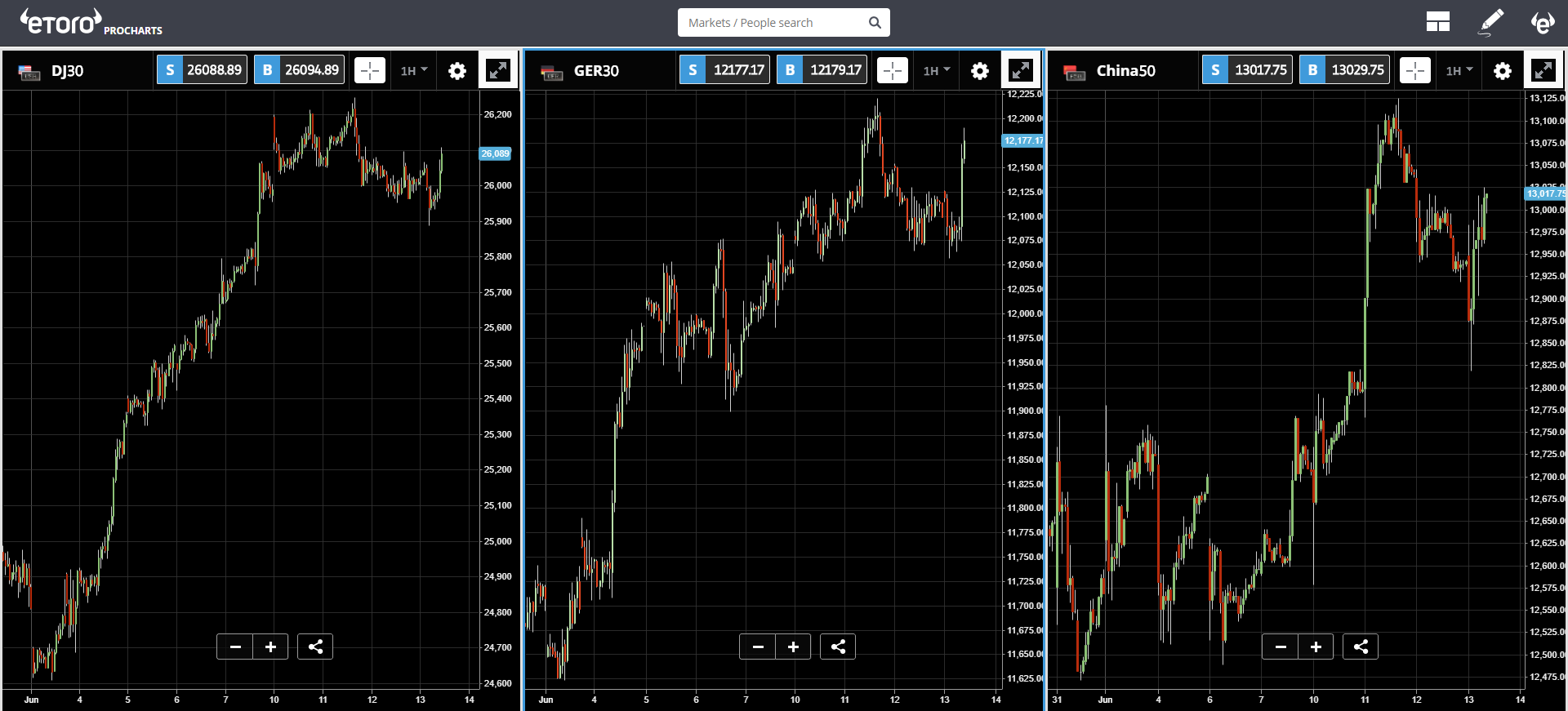 On the other hand, a strange incident in the Gulf of Oman saw two oil tankers sustain damage. The oil market is reacting to emerging details.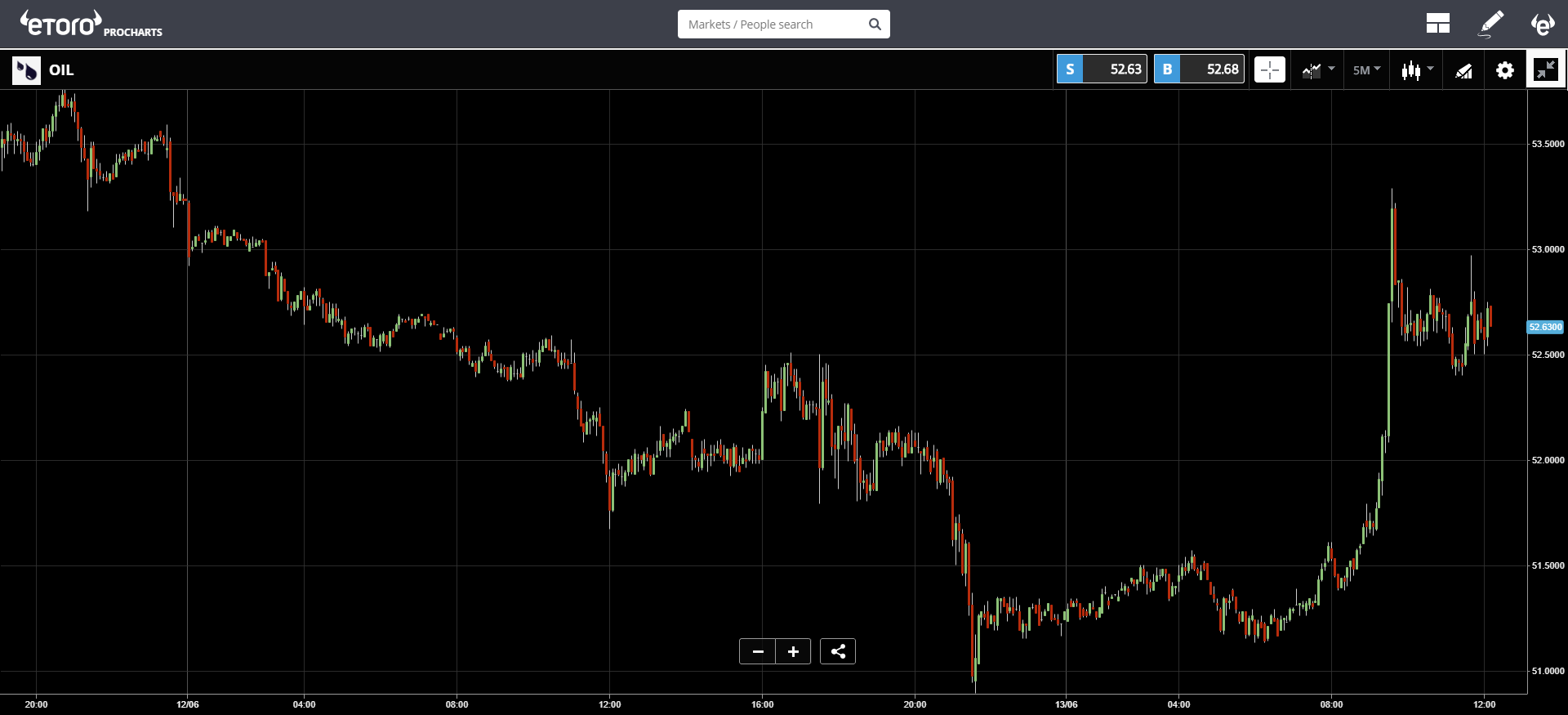 Oil has been falling hard these last couple of weeks so it will be interesting to see if we've finally found a floor. Still, if this was a terrorist attack it does have the potential to grow into a wider geopolitical issue in a particularly volatile region.
What Moves Crypto?
The answer might shock you.
According to researchers at Indexica, nothing.
It seems that even though the asset class is maturing at a rapid pace Zak Selbert and his team were not able to find any real market drivers, claiming that crypto markets don't really react to breaking news like traditional stocks.
Case in point, since the Bloomberg article mentioned in our opening note was published (purple circle), the price of Bitcoin has barely budged and Binance Coin (green line) has marked a new all-time high.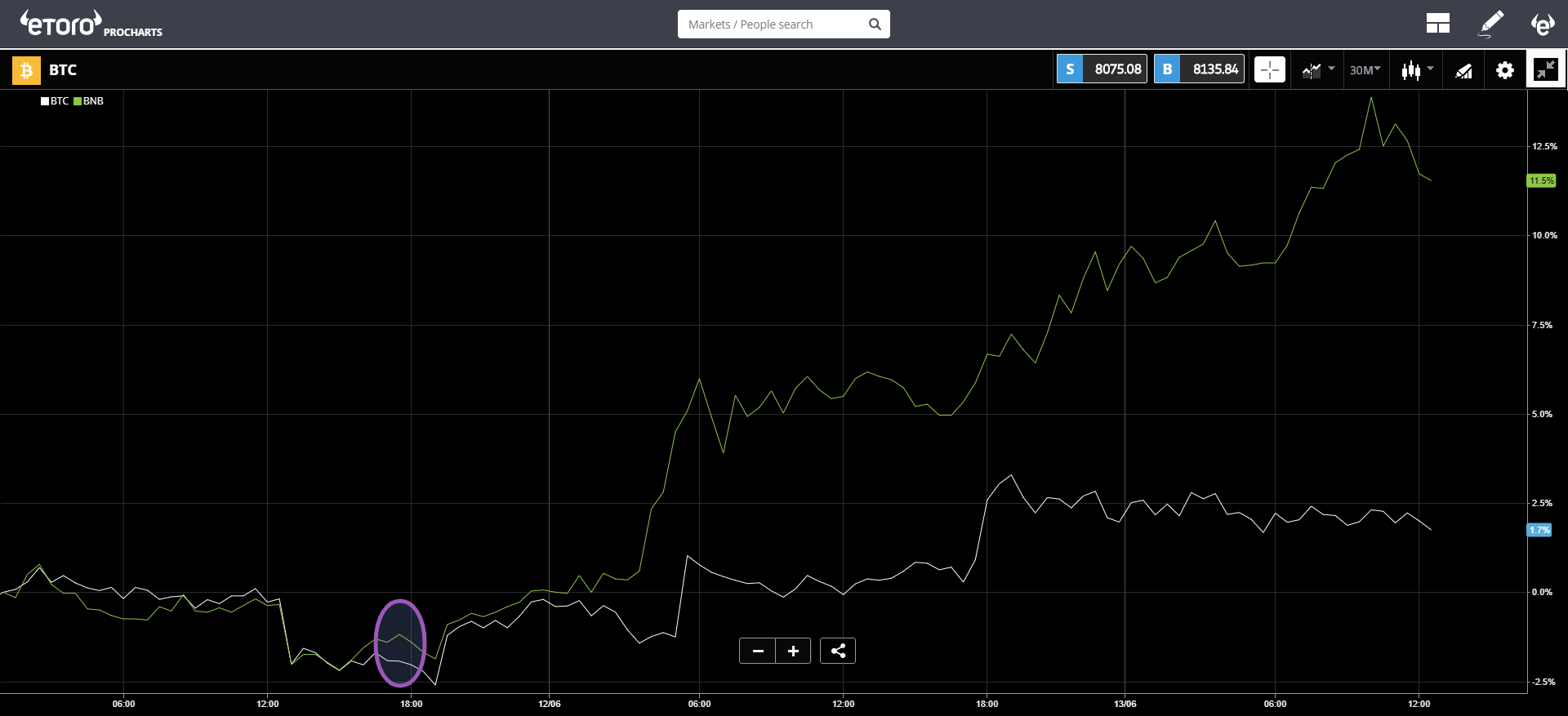 Still, even though cryptos might not behave like a stock or a commodity, I personally feel that their patterns do have both rhyme and reason. We simply need to go back to the basics.
Those of you who've been reading know that I try to stress very simple technical indicators and very deep fundamentals.
A simple moving average or a strong support/resistance line is really enough. For example, take a look at the way Binance Coin has interacted with the level $32.50.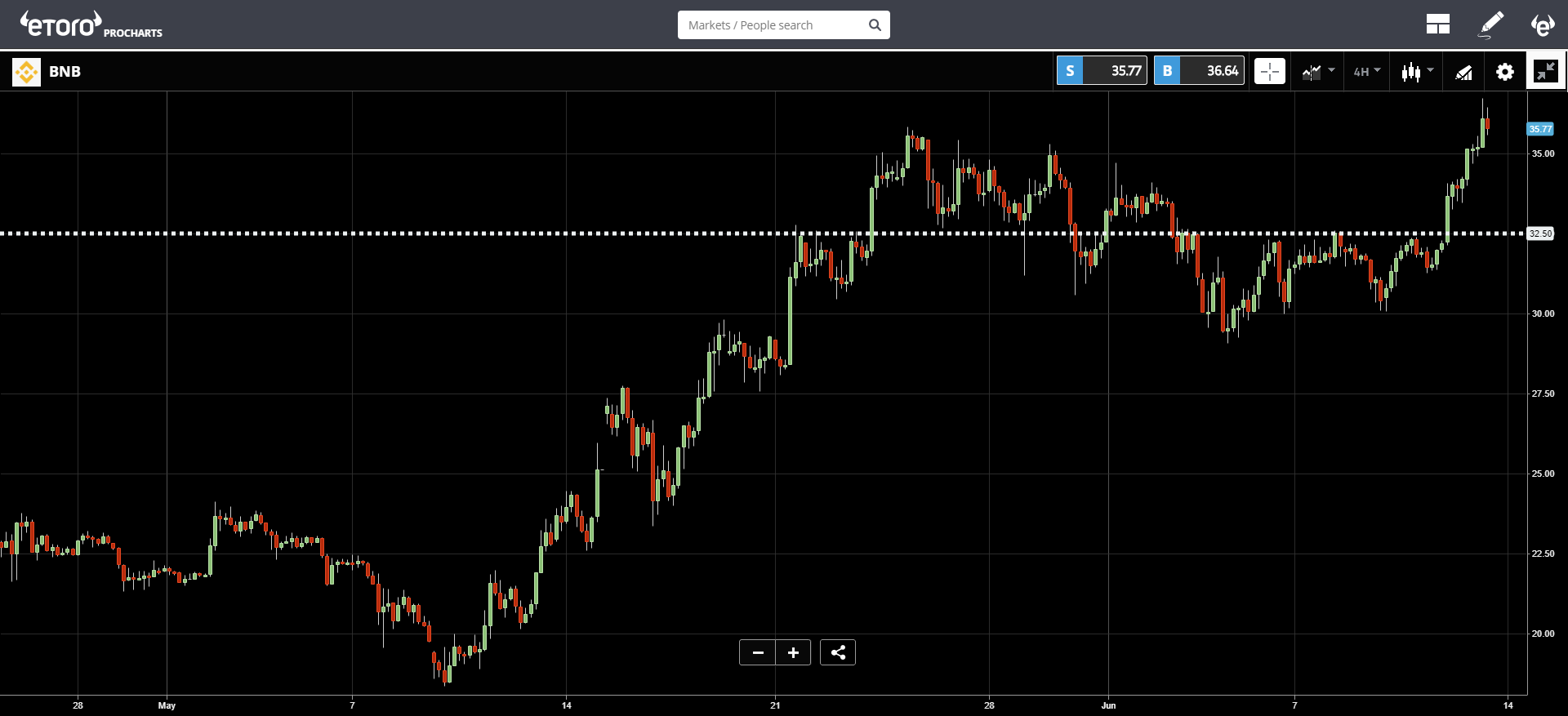 Now, I couldn't tell you exactly why $32.50 is such an important level for $BNB, but it clearly is significant for short-term traders as it went from resistance to support and back to resistance and finally broke out.
What Really Moves Crypto Prices?
Of course, for long-term investors and hodlers what really matters is adoption. Sentiment and momentum are clearly king but what tends to drive them are adoption rates and real-world usage.
For example, we can see the transactions on the Bitcoin blockchain or new wallet addresses as a very good indication of the level that it's being used.
We also like to monitor the level of volumes across exchanges but the type of data that really helps are the volumes from peer-to-peer sites like LocalBitcoins.
Here we can see the long-term chart of global volumes there, which seems to be growing strong lately despite the site being banned in Iran and despite them discontinuing their crypto for cash options.
As always, please continue sending in your excellent questions, insights, comments, and feedback. They are super helpful.
Have an excellent day!
---
Mati Greenspan can be found on LinkedIn, Twitter, or etoro. 
This is a marketing communication and should not be taken as investment advice, personal recommendation, or an offer of, or solicitation to buy or sell, any financial instruments. This material has been prepared without having regard to any particular investment objectives or financial situation, and has not been prepared in accordance with the legal and regulatory requirements to promote independent research. Any references to past performance of a financial instrument, index or a packaged investment product are not, and should not be taken as, a reliable indicator of future results. eToro makes no representation and assumes no liability as to the accuracy or completeness of the content of this publication, which has been prepared utilizing publicly-available information.