Mati Greenspan, Senior Market Analyst at FX broker eToro, has provided his daily commentary on traditional and crypto markets for June 12, 2019. The text below is an excerpt and does not contain the full analysis.
---
Pressure has been building over the last few days and by this morning tens of thousands of protestors were met with tear gas. On Sunday, an estimated 1 million people marched on the streets of Hong Kong fighting for their sovereignty.
A critical debate was scheduled to take place in the legislative council today regarding a draft bill proposing that China be allowed to extradite HK citizens at will but proceedings have now been delayed.
The fear here is that if this bill goes through, China will be able to exercise a tight level of control over HK citizens. A move that could potentially cause the international community to revoke its independent status.
The Hong Kong stock market is down considerably today, which seems to be putting a damper on global investor sentiment, taking the wind from the sails of this week's rally.
Today's Highlights
Visa Enters Settlement Market With Blockchain: A new offering from Visa uses blockchain to shorten global transaction times to 1-2 days. It comes as a bit of a surprise that they aren't using Ripple technology, given their purchase of a Ripple payment partner in December.
Trump Oddly Attacks Fed: Trump has renewed his criticism of the Fed, an odd development given the Fed's total capitulation to the President lately. Markets were down yesterday, but the fundamentals that have led to a strong June haven't changed.
HK Markets Down, Sovereignty in Question: An estimated one million people have taken to the streets in Hong Kong, as a bill that would allow China to exercise control over HK citizens is being debated in the legislative council.
BTC Volumes, Price Steady: Daily bitcoin trading volumes have held steady at around $750 million, as price has consolidated over the past few days.
Please note: All data, figures & graphs are valid as of June 12th. All trading carries risk. Only risk capital you can afford to lose.
Traditional Markets
The situation in Hong Kong isn't the only thing on the market's mind today…

This latest tweet is a bit odd given the Fed's total capitulation to the US President lately. As we've pointed out in a previous update (titled: Best Friend), the Fed has recently enacted what is likely the biggest shift in monetary policy the world has ever seen.
We've gone from two expected rate hikes in November 2018, to two expected cuts at the moment. So, not sure what more President Trump wants here.
June so far has seen an impressive rebound in global stock markets. Today's a bit of down day but the fundamentals haven't really changed much.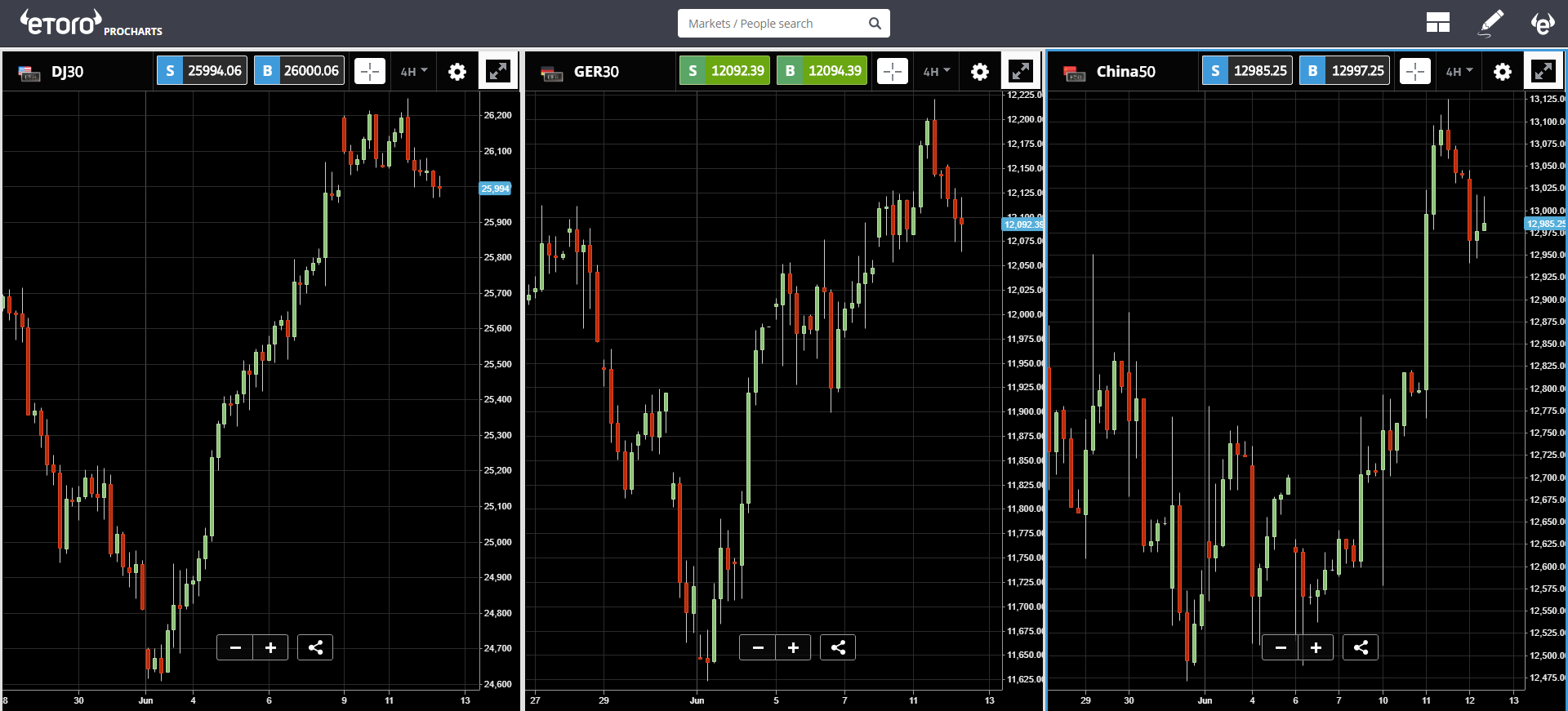 Visa Vs Ripple
Until now Visa has mostly stayed out of the $125 trillion global settlement market but they've now created a new product that utilizes blockchain technology called Visa B2B.
Oddly enough, Visa has chosen to use IBM's Hyperledger protocol rather than Ripplenet for settlement of the transactions. As we know, Visa purchases a payment processor known as Earthport in December for about $250 million. As Earthport is a partner with Ripple, it was highly anticipated that Visa would begin using Ripple's products but as far as I can this new product makes no use of Earthport or XRP.
As I mentioned earlier, Ripple needs to focus now on adding new partnerships and to increase the usership of those who are already signed on. Two goals that go hand in hand.
In any case, Visa already has a very large global network and plenty of use but this new B2B product is likely to reduce transaction times to "one to two days" for a settlement. So, no, this doesn't compare to the 3-second transaction time on the XRPL.
Looking at the graph, we can see that both V and XRP have been doing fantastic over the last 2.5 years.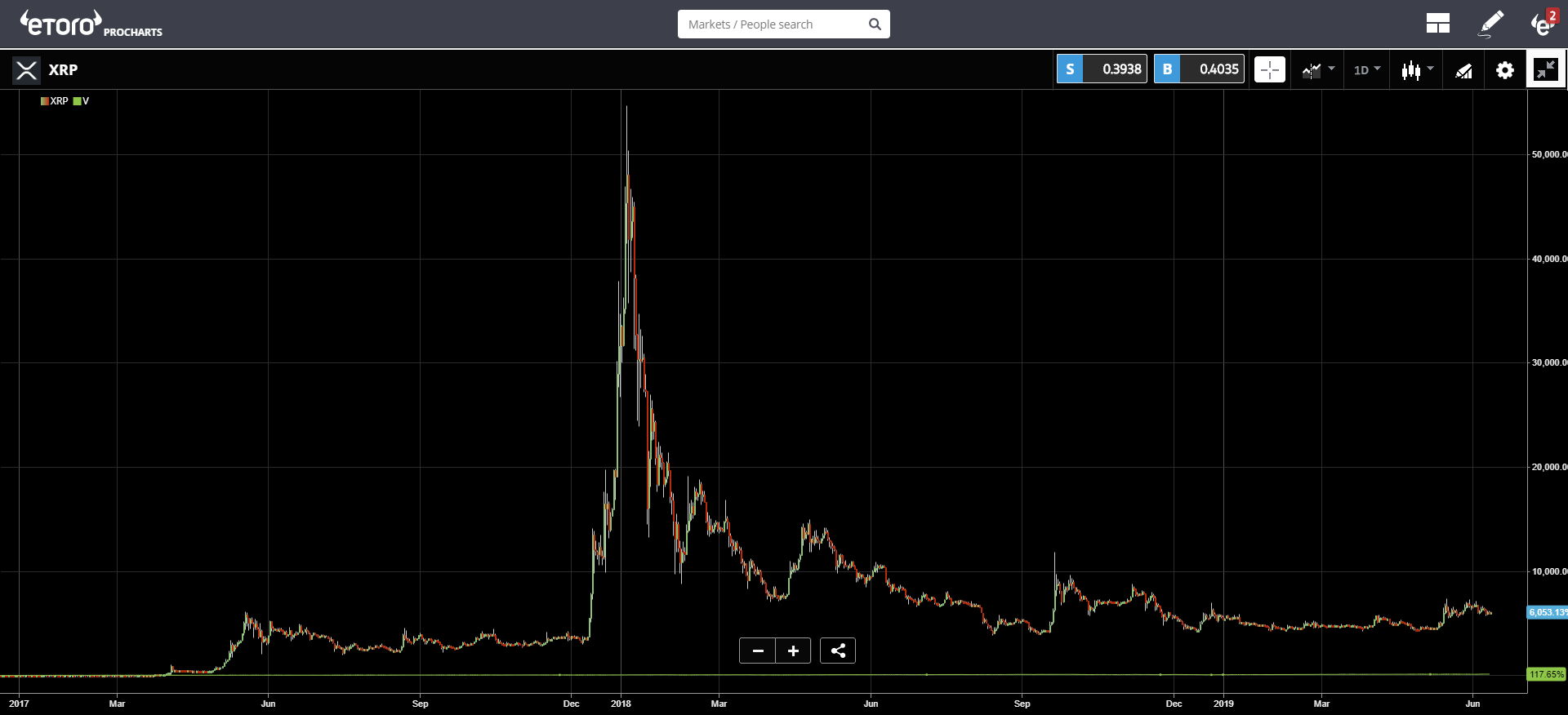 Bitcoin Ranges
The crypto market is still cooling down after the massive surge we've seen so far this year. Bitcoin volumes on the 'real 10' exchanges have been holding steady at about $750 million for the past few days as we consolidate the gains.
Litecoin has continued to climb and is now up more than 350%. As we discussed yesterday the fundamentals are strong on this particular coin as it remains a leader in the crypto market.
We discussed Litecoin's surges, bitcoin's current price range, as well as the possible effects of Facebook coin in our weekly video with CoinTelegraph, so make sure to check that out here.
Another headline I thought was cool yesterday was regarding a cryptoanalysis site that I personally to frequent.

This is a clear sign that institutional interest in cryptotrading is increasing at a rapid pace. In addition, it's nice to see them coming to the industry incumbents to get their pricing.
Hope to see some bitcoin futures on the Nasdaq soon.
Let's have a great day ahead!
---
Mati Greenspan can be found on LinkedIn, Twitter, or etoro. 
This is a marketing communication and should not be taken as investment advice, personal recommendation, or an offer of, or solicitation to buy or sell, any financial instruments. This material has been prepared without having regard to any particular investment objectives or financial situation, and has not been prepared in accordance with the legal and regulatory requirements to promote independent research. Any references to past performance of a financial instrument, index or a packaged investment product are not, and should not be taken as, a reliable indicator of future results. eToro makes no representation and assumes no liability as to the accuracy or completeness of the content of this publication, which has been prepared utilizing publicly-available information.