ActivTrades' Market Analysts have prepared for Leaprate their daily commentary on traditional markets for June 12, 2019. See details below:
---
FOREX
The US Dollar continues to lose ground to other major currencies, having lost more than 1.4% against the Euro so far this month. The Greenback depreciation can be explained mainly by concerns over the escalation of trade tensions between the US and China and how the Federal Reserve may react; it is increasingly likely that the next movement will be a cut, which may arrive as early as July.
Many observers point to the fact that pressure is building up and the Fed may have no alternative but to cut rates, amidst a perfect storm of heightened trade tensions, a weak jobs report, anaemic inflation and political pressure from President Trump. In the meantime, the markets are pricing it all in and that is why the US Dollar is likely to continue on the current downwards trend.

Ricardo Evangelista – Senior Analyst, ActivTrade
EUROPEAN SHARES
Global share markets dipped today after trade concerns resurged. While US Secretary of Commerce Wilbur Ross said he was confident a trade deal with China will be reached, he said a resolution is unlikely to be found during the next G20 meeting, bringing fresh uncertainty to traders. Meanwhile, China is not relaxing countermeasures against Washington yet as it doesn't trust more positive signals sent by the US according to the China Global Times Editor who echoed the pessimism about a potential G20 deal. On the markets the slow dance between risky assets and safe haven continues.
The Stoxx-600 index slipped as the current trade concerns could be an excuse for investors to take some profits after four bullish days in a row. Traders are awaiting the key CPI report from the US today which will give a more accurate picture of the state of the US economy.
Technically speaking, little negative performances are being registered across Europe. However, price variations remain low as bulls still aggressively defend key levels confirmed as support zone after the recent rally. The DAX-30 rebounded over 12,075 pts, the French CAC-40 confirmed the 5,370 pts level as a valid support, while investors are defending the 9,200 pts zone currently.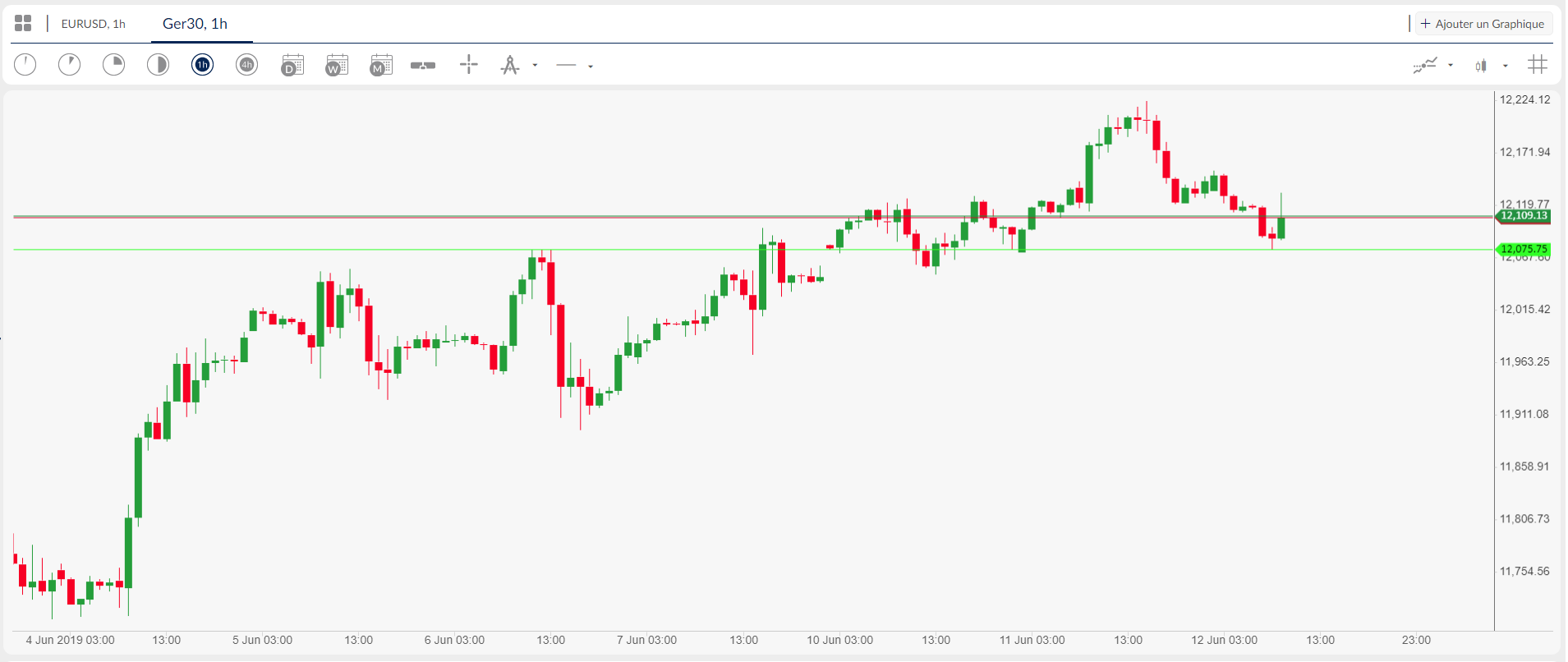 Pierre Veyret – Technical analyst, ActivTrades