ActivTrades' Market Analysts have prepared for Leaprate their daily commentary on traditional markets for June 11, 2019. See details below:
---
FOREX
The US Dollar fell by more than 0.1% against the Euro Tuesday, resuming a downward trend after a brief reprieve on Monday. This dynamic can be explained by a market sentiment that sees a correlation between escalating trade tensions and the likelihood of the US Fed cutting interest rates.
A scenario perfectly illustrated by the Greenback's performance, following President Trump's threat to raise new tariffs on Chinese imports should Chinese President Xi Jinping fail to meet him at the upcoming G20 summit in Japan; investors immediately started selling the US Dollar, as they saw the latest escalation in rhetoric as strengthening the case for the Fed to cut interest rates, perhaps as early as July.
Ricardo Evangelista – Senior Analyst, ActivTrades
GOLD
The Gold price is continuing its decline and is now close to the support level placed at $1,320, where buyers would be called to show the strength of the bullish trend seen in the last two weeks. Despite the moderate fall of the US dollar, bullion is struggling to recover, and this is mostly due to the risk on sentiment which is still animating stock markets, as investors took confidence after the news at the weekend regarding the US and Mexico agreement.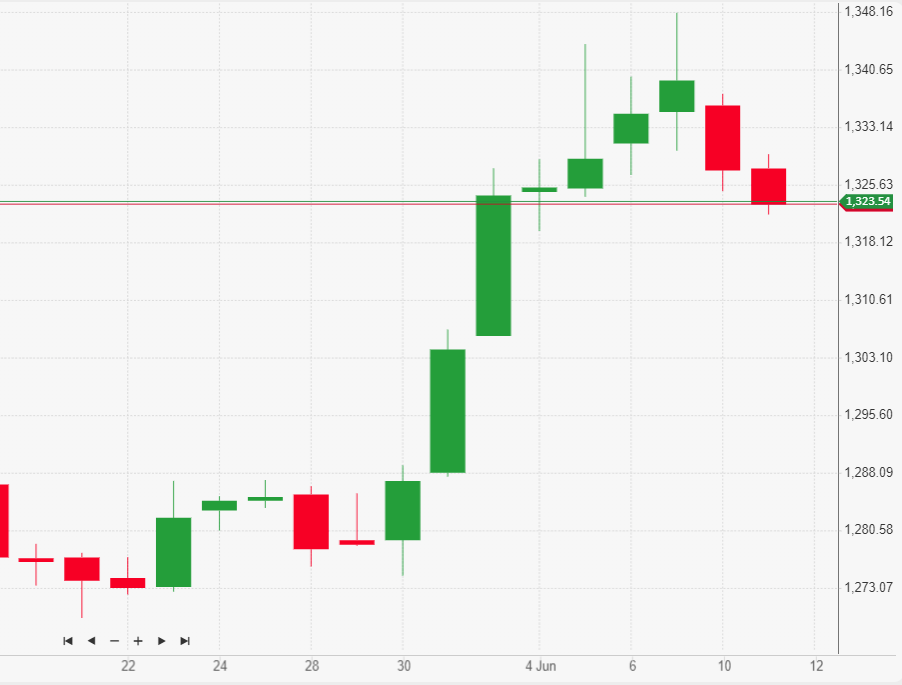 Carlo Alberto De Casa – Chief analyst, ActivTrades
OIL
The new week started on a slow pace for oil, with prices declining after the recovery seen on Thursday and Friday. This confirms a weak environment for oil despite the agreement between US and Mexico. Investors are looking closely at developments regarding trade talks between the US and China, while uncertainty about supply cuts is pulling down the price of crude oil.
Carlo Alberto De Casa – Chief analyst, ActivTrades
EUROPEAN SHARES
Stocks in Europe continue to trade higher for the second trading session of the week. The risk-on mood persists despite the latest tariff threat from President Trump to Xi Jinping. Washington is looking forward to the next G-20 meeting in Japan to continue trade talks with China, and so do investors. It seems that markets currently price a fair trade resolution between the two blocs, despite the fact that no significant progress has been registered yet and more difficult negotiations remain to be done.
Market conditions on stocks and safer assets are likely to get increasingly volatile closer to the Osaka summit as declarations from both governments could have a serious impact on prices.
In addition to the US-China trade dispute, investors are awaiting the key US inflation report – the Consumer Price Index, due on Wednesday – to adjust their exposure to stocks. Meanwhile, the Stoxx-50 index is trading toward a 3-week high at 3,400 pts while the next targets can be found towards 3,415-3,420 pts and then 3,440 pts by extension.
Pierre Veyret– Technical analyst, ActivTrades