The following article was written by Giles Coghlan, Chief Currency Analyst at HYCM. 
---
Crypto markets have been in something of a holding pattern of late. Since the steep losses incurred in March, the market has recovered to roughly where it stood just before the coronavirus crash and now appears to be awaiting its next move. The question on everyone's lips is whether this next move will be to claim new yearly highs, or back down to retest the lows we saw in March. The fact that this is the same question on the minds of traders across many markets should reveal that the crypto market should no longer be seen as an uncorrelated wild-west that moves independently of other asset classes.
Some cryptocurrencies such as Bitcoin (BTC), Ethereum (ETH) and Zcash (ZEC) have fared better than others, having broken above the brief trading range we saw in late February and early March. Others like Ripple (XRP), Monero (XMR) and DASH (DSH), while having also bounced back, are still lagging below where they found themselves trading before the crash. The general picture across the board is of a market that has bought the dip but is uncertain of how to proceed.
This is also evidenced by the fact that since reclaiming the 257 billion level in early May, crypto market volumes have been steadily dropping off while the price attempts to grind higher and RSI levels cool off. The chart below, which shows the entire market cap across all symbols, is almost identical to those belonging to any individual cryptocurrency. The 'V' it describes also bears a striking resemblance to global equity markets, excluding the Nasdaq, which has managed to hit new all-time highs.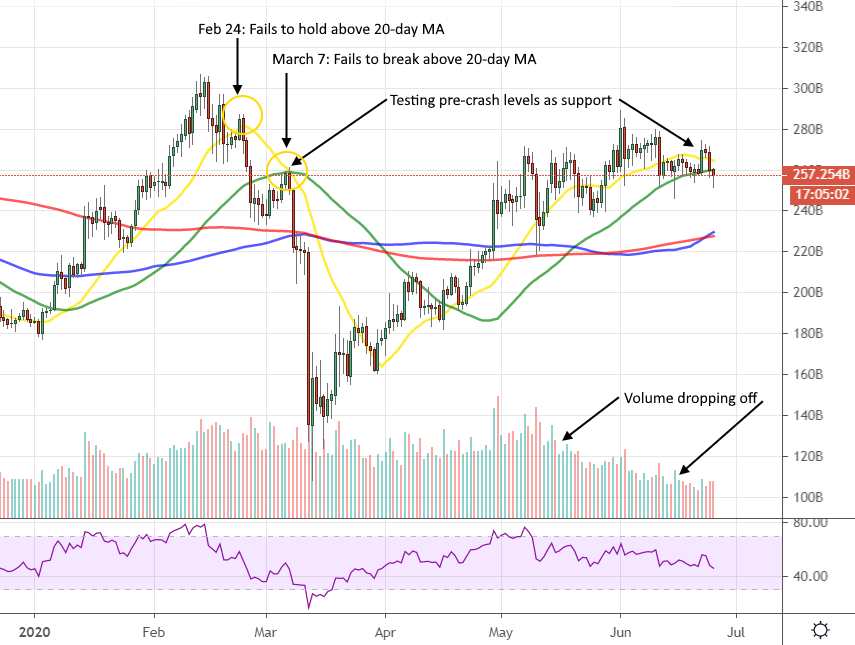 Another important parallel is that the crypto market appears to have been taking its lead from US equities. As you can see below, the S&P 500 started its correction with a gap down that commenced on Feb 21st. This was followed by a much larger gap down on its next trading session on Feb 24th. As you can see above, Feb 24th was also the day that the crypto market's upward trajectory was halted as it failed to remain above the 20-day moving average. The same is evident when both markets attempted to bounce back two weeks later. The S&P 500 moved first on March 5th as the attempted bounce stalled, gapping down to close below the 200-day MA (see below). This move was followed a couple of days later by the crypto market on March 7th, with the failure of its own bounce and the rejection from both the 20-day and 50-day moving averages (see above).