CoinSmart.com, a new cryptocurrency exchange platform has launched and has announced that it aims to simplify cryptocurrency purchasing for Canadian investors. Designed for the "Crypto Curious" who are just entering the market, right up to experienced investors, CoinSmart makes easy the buying, selling, trading and storage of crypto assets by equipping clients with an easy-to-use interface, educational resources, an extensive range of coins, and 24/7 live omnichannel support.
CoinSmart is allowing investors to transact between coins not paired with BTC (Bitcoin) or ETH (Ethereum), giving clients the ability to easily switch from one cryptocurrency to another. CoinSmart does this on the back-end, enabling the most straightforward user experience possible.
CoinSmart will also offer a unique tax-time reporting tool to help clients determine their taxable income and capital gains. The easily-generated report will account for both currency-to-coin and coin-to-coin transactions.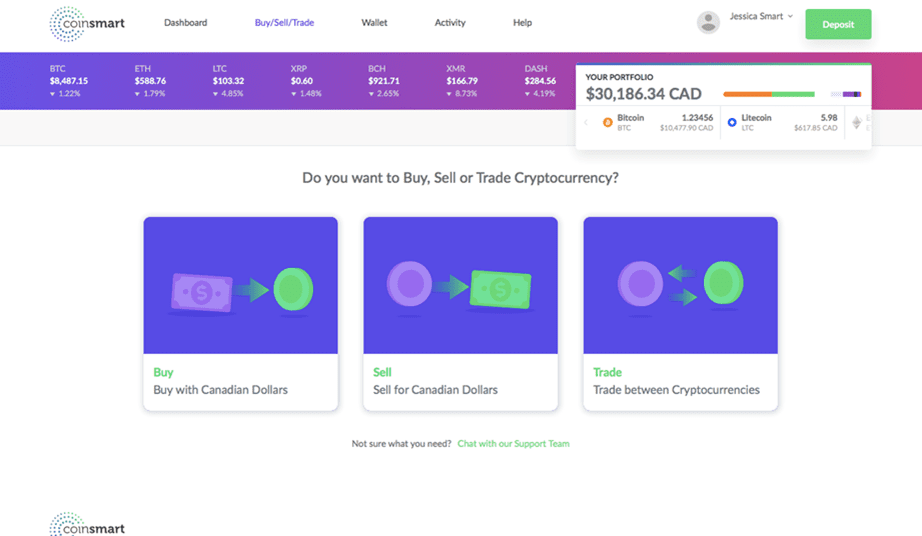 Headed by Justin Hartzman, a seasoned entrepreneur who in his career has successfully scaled three technology companies and leads the world's first social media RoboAgency, intends to make investing in cryptocurrency as accessible and simple as buying a book on Amazon.
As a long-standing cryptocurrency investor, I have experienced first-hand how Canadians are under-served by existing exchanges," said Justin Hartzman, CEO CoinSmart. "Platforms are unnecessarily complex, lack personal touch, and do not provide the tools and service support that consumers deserve. We used these issues as our design motivation and trust that CoinSmart fixes all these concerns allowing any investor —first time or not— to truly feel comfortable and secure.
As of launch day CoinSmart will offer BTC (Bitcoin), Ethereum (ETH), BCH (Bitcoin Cash), LTC (Litecoin), Dash (DASH), XMR (Monero), and EOS, with additional altcoins planned for roll-out on an ongoing basis. Customers can fund their accounts using fiat, Electronic Money Transfer (EMT) and Electronic Funds Transfer (EFT) with plans to introduce Flexepin, credit card, and gift card funding options. Clients will be able to purchase any listed coin directly with CAD, mitigating the need for a BTC or ETH pairing.