The largest bank in Kuwait, the National Bank of Kuwait, announced that it will integrate Ripple to its online banking system for the facilitation of cross-border payment transactions.
The Ripple service will be available to all of the bank's users who have access to online banking 24/7. The new transfer service is now available to Jordan, and more countries are to be added in due course.
The Ripple novelty is groundbreaking for Kuwait, as this is the first time in the country users will be able to transfer money directly through the Direct Remit option in the online banking system.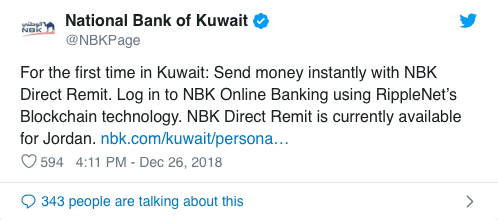 The remittance currently costs around KD 1 for any transfers to the National Bank of Kuwait in Jordan and around KD 5 for others banks in Jordan. The RippleNet's DLT is a huge relief to the Jordan banking system, since the transfers are quick, easy and secure, features that have been somewhat missing in Jordan when it comes to money transfers.
With widespread adoption, Ripple is poised to become the top cryptocurrency in the upcoming years. While Bitcoin's price and "reputation" are tumbling, the various applications of XRP in the financial and fintech world increase constantly. The "sweet spot" for Ripple are the major banks and financial institutions looking to adopt XRP to remain competitive when it comes to servicing their customers and offering online tech solutions.