LeapRate Exclusive… LeapRate has learned that popular Forex and Binary Options affiliate programs operator RushBucks is cutting its ties with the sector.
At various times, RushBucks has run affiliate programs for a number of (mainly Binary Options) brokers including TradeRush, Redwood Options, Boss Capital, as well as 10Trade.com, a CySEC licensed Binary Options broker via parent company Holiway Investments Ltd.
We have learned from (now) former affiliates of RushBucks, as well as representatives of the company, that the decision to abandon the Forex and Binary Options sector comes following the ongoing crackdown by Israeli authorities on companies marketing their own (or others') online trading brands from within the country.
We understand that RushBucks, which has most of its employees in Israel, is currently considering different options, including using its affiliate network to promote other online products.
RushBucks is apparently not alone in making this kind of decision. With the introduction of a new Binary Options bill in Israel (which is still months away at best before becoming law), a number of brokers as well as independent customer service / sales / customer retention companies and affiliate program operators are either in the process of shutting down altogether, or are moving their operations out of the country.
Aside from Israel cracking down on these activities, which even today still employs thousands of people in the country (although those numbers are rapidly declining), national regulators such as CySEC in Cyprus are banning outsourcing and requiring that all key customer-facing activity (such as sales and retention) for licensed brokers occur in the country where the company is regulated.
RushBucks' website currently shows 'partners' Royal Capital Trade and IbexFX, with both of those brokers showing identical addresses in Latvia. However neither broker appears to be licensed or regulated in Latvia, an EU country, which would be required for those brokers to really be operating from there.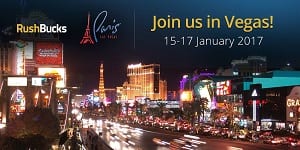 RushBucks was, as recently as January, active at affiliate marketing events and conferences, such as the Affiliate Summit West in Las Vegas January 15-17, and  Affiliate World Asia in Bangkok December 5-6, 2016.
RushBucks sent the following email out last week to its network of affiliates, announcing the change.
---
Subject: RB Update – Offers Suspension
Date: Thu, 02 Mar 2017 14:09:18
From: RushBucks Support <[email protected]>
To: *************
Dear Affiliate,
We are reaching out to you regarding an important update concerning the status of our Forex and Binary Options offers. As of March 5th 2017, RushBucks will no longer accept any Forex and Binary Options traffic. We do appreciate the time and efforts you have invested in promoting our offers to your websites' visitors, and therefore we would like to emphasize the fact that all pending affiliate commission including Feb 2017 commission will be delivered as planned.
We would like to emphasize the fact that traffic must be paused as soon as possible and all Binary Options and Forex offers will be suspended on March 5th at 12AM GMT.
We would like to thank you for your understanding and apologize for any inconvenience caused by this swift transition. Be assured that we'll contact you as soon as we'll launch brand new TOP CONVERTING affiliate offers…so get ready!
Please don't hesitate to express any questions or concerns during this transition.
Kind regards,
RushBucks Support Team
—
Transition Marketing LTD, Suite 102, ground floor, corner of eyre & Huston st,, Belize City, , BZ