Monaco, the pioneering cryptocurrency and financial services firm, has announced its rebrand to CRYPTO.com, reflecting its mission to accelerate the global development, adoption, and transition to cryptocurrency.
Its integrated portfolio of premium consumer cryptocurrency products previously known as Monaco — including the wallet app and Visa payment cards — will be branded as MCO to align with the name of the company's token. Additionally, CRYPTO.com's MCO has published an updated whitepaper today to recap achievements thus far, highlighting its vision, strategy, new products and services in its pipeline.
The crypto.com url was first registered in 1993 by Matt Blaze, a computer science professor at the University of Pennsylvania, and he has since rebuffed many attempts to acquire it, notably in the past couple of years since cryptocurrencies became popular.
In January, Blaze repeated that the domain was "not for sale" and that people shouldn't both to contact him — as The Verge noted — however fast forward to July and he has parted with it after Monaco, a crypto project best-known for developing a crypto debit card, bought the domain in an undisclosed deal.
Experts told The Verge that Crypto.com could have attracted as much as $10 million, however Monaco CEO Kris Marszalek declined to go into the specifics.
Kris Marszalek, Co-Founder and CEO of CRYPTO.com, said:
CRYPTO.com gives us a powerful new identity in line with our original vision to put cryptocurrency in every wallet. As the name we are taking on is also representative of the entire space, it comes with a huge responsibility to carry the torch. We will strive to deliver impact worthy of the name and build infrastructure that enables growth of the ecosystem, delivering on the promise of a decentralized future.
Marszalek continued:
Today, we're also releasing the MCO Whitepaper 2.0, which unveils a comprehensive and integrated suite of consumer financial services built on and enabled by blockchain. Collectively, these products will change how customers spend, move, and invest money. We are very fortunate to have built a world-class team over the last year and I couldn't be more proud of what the team has delivered. I encourage the entire MCO community to look through the whitepaper now available at www.crypto.com.

Our rebrand to CRYPTO.com will not affect our MCO Visa Card rollout schedule.
At around $7 per MCO token, the commitment for a card isn't cheap. The top of the range 'Obsidian Black,' which has the highest rate of cashback and perks, requires a customer to hold around $350,000 in MCO tokens.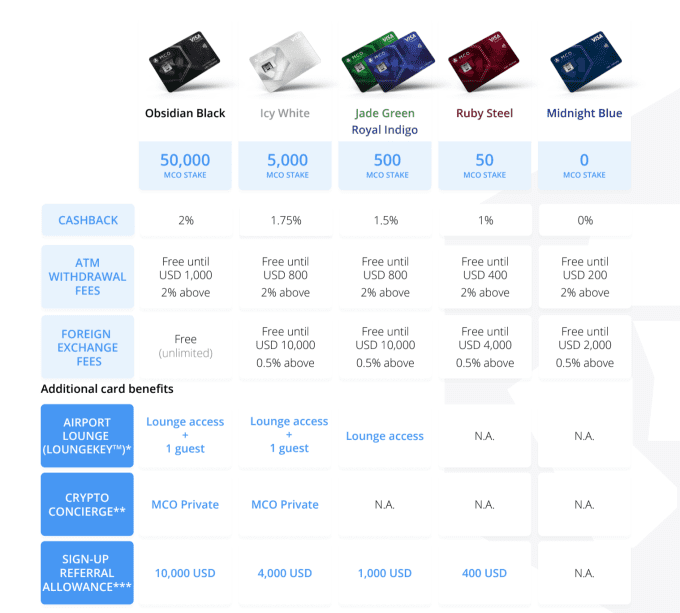 Under CRYPTO.com, the MCO product brand establishes a unified identity for its new and existing consumer product and service offerings:
MCO Products
MCO Visa Card, a card that allows users to spend cryptocurrency anywhere Visa is accepted;
MCO Wallet App, a mobile wallet that allows users to buy, exchange, and send four cryptocurrencies and seven fiat currencies, and track over 200 coins in the cryptocurrency markets;
MCO Crypto Invest, a robo-advisory cryptocurrency investment tool;
MCO Crypto Credit, a crypto credit service that allows customers to deposit their cryptocurrency and receive credit to spend with their MCO Visa Card.
MCO Services & Benefits
MCO Private, a bespoke concierge for high-net-worth cryptocurrency investors;
Platinum Referral Reward Program, a unique peer referral program, offering up to a never-before-seen US$10,000 sign-on bonus per cardholder
Crypto Wallet Cashback, a program offering up to 1% cashback rewards for all purchases and exchanges of cryptocurrency in the MCO Wallet;
Crypto Airdrops, ad-hoc token airdrops to users for selected tokens listed in the MCO Wallet App.
CRYPTO.com has begun updating of all of its digital assets including the new website: www.crypto.com. It also serves as a gateway to the revamped MCO website — mco.crypto.com — which contains information about MCO products.
New social media handles are as follows:
Channel
CRYPTO.com
MCO
Twitter
twitter.com/TheCryptoCom
twitter.com/MCO_Crypto
Telegram
t.me/MCOCryptoOfficial
t.me/MCOCrypto (New Page)

t.me/MCOCryptoOfficialAnnouncements(New Page)

t.me/MCOCrypto_Korea

Reddit
reddit.com/r/Crypto_com
reddit.com/r/MCOCrypto (New Page)
Facebook
facebook.com/Crypto.com.official
facebook.com/MCOCryptoOfficial
Instagram
instagram.com/Crypto.com.official
instagram.com/MCOCryptoOfficial
LinkedIn
linkedin.com/company/cryptocom
Medium
medium.com/@Crypto.com
medium.com/@MCOCrypto
Discord
discord.gg/B6cZahJ