Shares of leading publicly traded US online retail brokers traded down between 2-10% yesterday, including those of Charles Schwab Corp (NYSE:SCHW), E*TRADE Financial Corp (NASDAQ:ETFC), Interactive Brokers Group, Inc. (NASDAQ:IBKR, )and TD Ameritrade Holding Corp. (NYSE: AMTD).
Thursday's trading results included:
Schwab:

-5.3%

E*Trade:

-8.9% 

TD Ameritrade:

-9.5%

Interactive Brokers: –

1.9%
The cause?
Well it looks like these brokers (and others) are heading toward a price war, bringing down commissions which form a key part of each broker's Revenues.
Industry leader Schwab announced yesterday that it was going to undercut its competition, lowering fees-per-trade for both stock and ETF trades by more than 20%, to $6.95 from $8.95. According to a comps table from CNBC (see below), that places Schwab as the new low-cost provider in the US online sector, below privately-held Fidelity ($7.95), TD Ameritrade ($9.99), E*Trade ($9.99), and Vanguard ($7-$20, depending on client trade volume). Interactive Brokers charges half a cent per share purchased.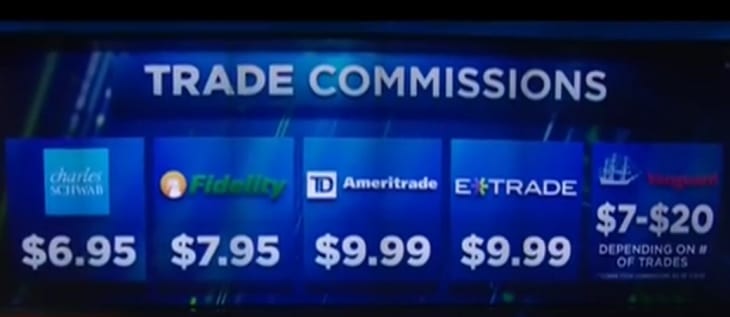 Source: CNBC.
Investors clearly do not expect this to be the end of the price war, hitting shares of Schwab's competitors E*Trade and TD Ameritrade harder than Schwab itself.
Schwab's move comes as investors are turning more and more to lower commission and volatility Index ETFs, which continue to see growth. Despite being the largest online broker, Schwab is currently in fifth place in US ETFs behind Blackrock, Vanguard, State Street, and Invesco, according to data from ETF.com.