Trading right up until the closing bell, four students from University of North Carolina at Chapel Hill (UNC) turned in a 127% total portfolio gain in four weeks, outperforming other participants to win the third annual thinkorswim Challenge by TD Ameritrade Holding Corp. (NYSE: AMTD).
This year's virtual trading competition had a record number of participants: 726 teams of students from 233 colleges and universities across 49 states put their best ideas to the test.
The 2016 thinkorswim Challenge ran from October 10 through November 4, 2016, and was open to all students at post-secondary educational institutions in the U.S.
Participating teams started with $500,000 in virtual money to invest in real time.
Prizes were awarded to the top three teams with the highest overall percentage gain in their portfolios at the close of the competition, and to their respective schools.
Steven Quirk, EVP of Trading at TD Ameritrade said:
There are no Monday morning quarterbacks at the end of the thinkorswim Challenge. Experience is often the best educator, so our competition is designed to give young people unparalleled exposure to navigating the market amid the real time events that ultimately influence the performance of their investments.
During the competition, students remained optimistic about the market overall, with 49% of trades being bullish and 40% bearish. The others were volatility plays or other trades.
Top team edges out 2nd place by less than 3%
Consisting of four UNC undergraduates… the team All for Tony, Tony for All from UNC won the Challenge, placing trades in the final hour of the four-week competition to edge out the others and win with a 127% portfolio gain and a portfolio value of $1,133,492.
Each member of the Challenge's overall winning team received $3,000 to be deposited into their own TD Ameritrade brokerage account. Furthermore, as the school affiliated with the overall winning team, UNC received $30,000 from TD Ameritrade for its role in educating students on the importance of investing.
---
Less than $13,000 separated the competition's overall winner from the second place team, which was Team CattleDrive from the University of Idaho. With its 124% gain and a portfolio valued at $1,121,232, team Cattle Drive brought in $20,000 for its school and each team member won $2,000 deposited into individual TD Ameritrade brokerage accounts.
---
Third place went to BSIF Elite from Truman State University, which ended up with a 90% gain and a portfolio value of $950,568. The team won $10,000 for its school, and each team member won $1,000 for placing third in the competition overall and $500 for winning week four of the competition, deposited into individual TD Ameritrade brokerage accounts.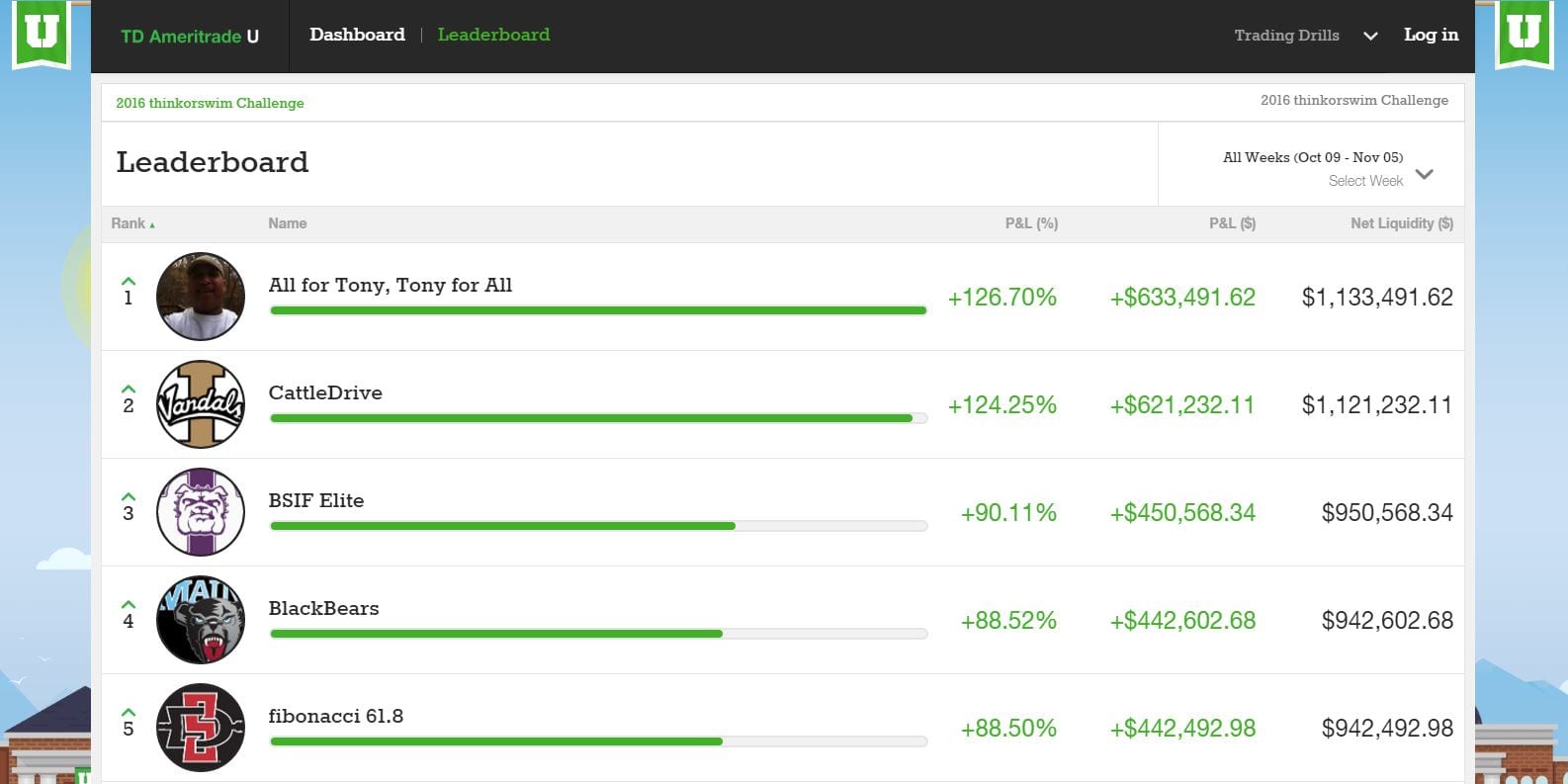 Full details from the thinkorswim Challange can be found here.