LeapRate Exclusive… LeapRate has learned via regulatory filings that payments services company Paysafe Group Plc (LON:PAYS) has spent £1.5 million in the first week of its recently announced £100 million share buyback program.

Paysafe shares traded down by as much as 38% earlier this month following the release of a damaging report by little-known short selling shop Spotlight Research. Spotlight's report claimed that Paysafe's largest customer, online gambling site bet365.com, may represent an estimated ~50%+ of Paysafe earnings, and that bet365 is operating a business that appears to facilitate and engage in illegal gambling out of China.
China is now engaged in a high profile crackdown on illegal gambling, including making arrests of employees from multi-national entities engaged in catering towards Chinese gambling customers. As such, according to Spotlight, much of Paysafe's China related business – which might account for as much as 50% of Paysafe earnings – is at risk of being shut down by Chinese authorities.
While Paysafe shares have made something of a recovery from the knee-jerk market reaction following the release of Spotlight's report, they are still trading 8-10% below where they were before, leading Paysafe to announce its buyback program.
Via the buyback program, announced on December 20, Paysafe intends to make open market purchases of up to £100 million of its own shares in what it calls a phased approach over the next 12 months. With a market cap of about £1.75 billion, that would represent about 6% of Paysafe's total shares based on today's prices.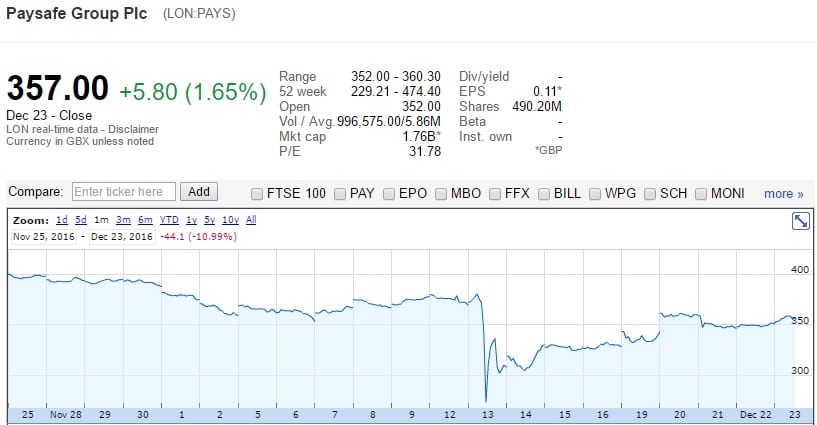 Paysafe share price, past month. Source: Google Finance.