Shares of Australia based OFX Group Ltd (ASX:OFX) tumbled 17% on Tuesday to a new all time low of AUD $1.34, after the online international payment services company reported First Half 2017 results which disappointed investors.
OFX Group provides services under the brands OzForex, UKForex, CanadianForex, USForex, NZForex, Tranzfers and ClearFX. The company has a March 31 fiscal year end, so the results reported are for the six month period ended September 30, 2016.
OFX saw its activity levels ('Turnover', in the chart below) flat from the previous six months, but down 4% from the same period last year. The company's Revenues ('Net Operating Income' below) were actually up 7% from the previous six months, and flat from last year.
The problem, however, was on the bottom line, with EBITDA falling by 25% due to rising costs at OFX.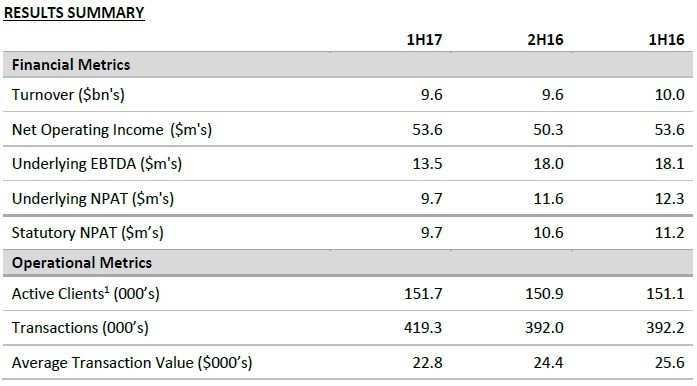 OFX shares took an even bigger tumble earlier this year, when acquisition talks by Western Union were called off.
More information regrading OFX Group's first half 2017 results can be seen on the ASX website here.