Hong Kong Forex retail forex broker KVB Kunlun Financial Group Ltd (HKG:8077) reported its Q3 results, and they were not pretty.
And the stock market responded in kind.
After seeing its business shrink by 21% in Q2, KVB saw its revenues plummet another 20% in Q3 to HK$ 66.6 million (USD $8.6 million) – its worst quarter revenue-wise since Q1-2015. The company also reported its first quarterly loss since Q1-2014.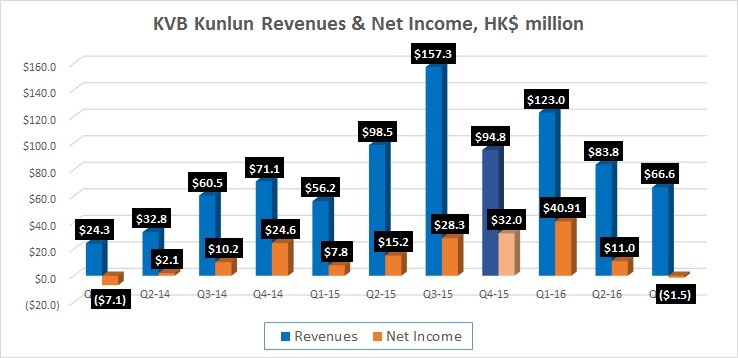 KVB management attributed its poor showing to 'a period of unfavorable trading conditions', as overall volatility was reduced in the foreign exchange and commodity markets. KVB saw a decline in not just revenue, but also in new client registration and clients' total trading volume.
The lack of Gold price volatility most impacted KVB, with the XAUUSD being the company's most traded product. After Gold, KVB's leading traded instruments during Q3 were USCRUDE, EURUSD, GBPUSD and USDJPY.
Interestingly, KVB's 6% share price drop in HKEX trading on Wednesday brought the shares down to HK$ 0.64 per share – slightly below the HK$ 0.65 per share offer made for KVB by Chinese financial giant  CITIC Securities Company Limited (SHA:600030), and which was rejected by minority shareholders of KVB. CITIC bought control of KVB last year from former controlling shareholder Li Zhi Da. At the time, CITIC made an offer to buy out the remaining minority shareholders of KVB for the same price paid to Mr. Li – HKD $0.65 per share – as was required by Hong Kong takeover law.
The HK$ 0.64 share price also set a new 52 week low for the company.
KVB's full Q3 financial report can be seen here.