Some rough numbers from retail forex broker Gain Capital Holdings Inc (NYSE:GCAP).
Gain Capital, which operates the Forex.com retail and GTX institutional FX brands, reported its Q3 financial report after the close of US markets Thursday, indicating that:
Revenues were down 33% QoQ to $72.2 million, Gain's slowest quarter since Q2-2014.
The company lost $4.7 million in the quarter.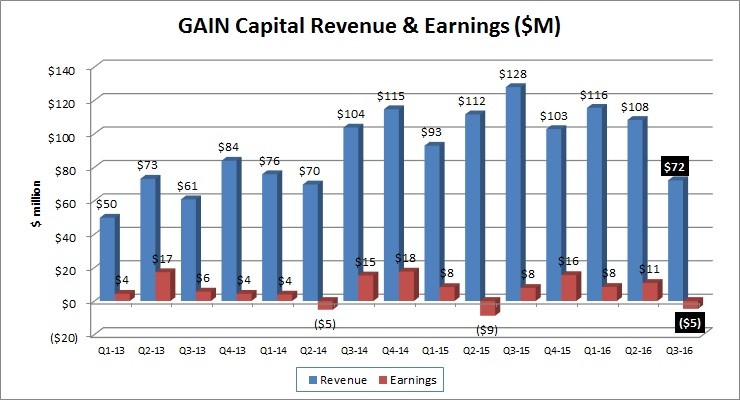 And the outlook into Q4 isn't much better.
Gain Capital saw Q4 start off even worse than Q3, with October retail volumes down 8% MoM to $190.8 billion – the slowest month at Gain's Forex.com unit in more than three years.
Gain Capital's monthly volumes are now well below where they were when Gain acquired City Index, one of the leading UK retail financial spread betting companies last year.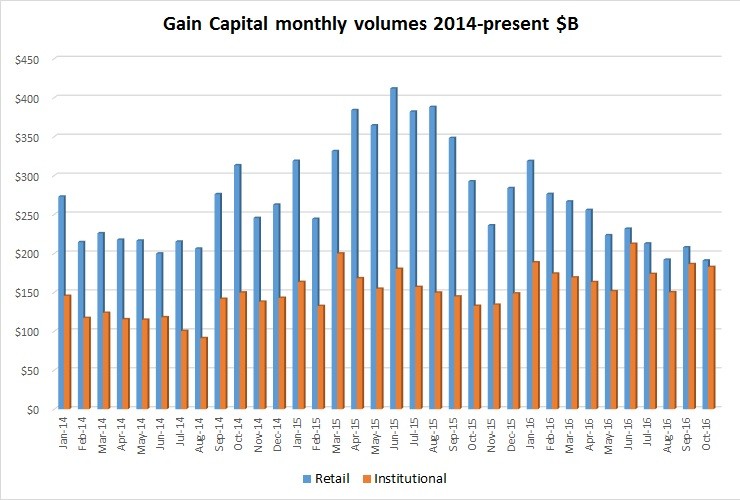 The company attributed its poor financial showing to the 'challenging market conditions of the third quarter', which 'resulted in lower than expected average daily volumes and revenue capture.'
Given the fall in its share price over the past few months, Gain Capital also announced that its Board of Directors has approved a share repurchase plan which authorizes the expenditure of up to $30 million for the purchase of the company's common stock. The amount and timing of specific repurchases, if any, will depend on market conditions, the trading price of GCAP common stock and other factors.
Gain Capital's full Q3 report can be seen here.