It used to be that Retail Forex brokers advertised only online, and in ways in which ROI could be directly and easily measured.
Then came sports sponsorships – usually in the form of getting a broker's name and logo on a popular Football team in a key target market.
And while that still occurs, a number of leading Retail Forex brokers have looked beyond the Football demographic in search of branding and new clients in other areas. We've recently reported on brokers sponsoring everything from Polo to Rugby, from cerebral Chess to power Weightlifting, from super-fast Formula One racing to the super-exciting Tour de France.
One of those out-of-the-box sponsorships came courtesy of FXTM, which backed Red Bull BASE jumping world record-holder Valery Rozov. We're pleased to speak with FXTM CEO Olga Rybalkina on what was behind that decision, and a whole lot more.
---
LR: Hi Olga, and thanks for joining us today. We've seen a lot of sports sponsorships lately in the Forex world, but FXTM's backing of BASE jumper and Red Bull athlete Valery Rozov is somewhat different. Can you let us know more about the decision to go with an extreme sports sponsorship?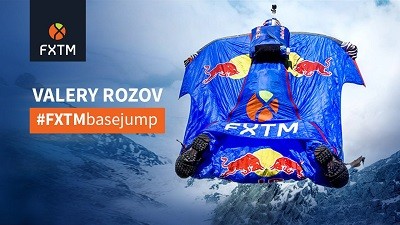 Olga: This is an exciting and inspiring project and we feel that the different nature of our sponsorship is representative of the fact that we strive to do things differently, bringing in innovation in everything we do. We are keen for our partnership to reflect our brand values, and ethos of the company, and also felt it was important that we sponsored an individual who our clients can relate to. There are many synergies between trading and BASE jumping, from the amount of training and preparation that needs to be done, to the speed at which aspects of your environment can change, to the fact that it's important to keep a clear head and make decisions based on fact and not emotions.
LR: This is much different than having the FXTM brand on a soccer player's jersey or racing car, which would be seen by thousands of young adult male demographic fans at least once a week. How do you see the branding value here for FXTM?
Olga: We didn't just focus on creating visibility when we began thinking about the sponsorship, but on creating a campaign that tells an engaging story – and one that is of value to our clients. We believe that supporting an elite, extreme sports athlete promotes an important and valid message to traders. Financial investments carry certain risks and the best way to understand how to manage those risks is by educating yourself, developing a thorough strategy and ensuring that each second is invested wisely – just like in BASE jumping. In addition to providing our clients with world-class education, at FXTM our most paramount responsibility is taking all the necessary measures to ensure a completely safe and robust environment to trade in.
We also feel that the attitude and mentality that Valery brings to this sport made the partnership a right fit. He is driven, committed, and extremely passionate about what he does, constantly challenging limits and boundaries. This is something we admire and is also a value we hold as a company. By supporting Valery, we want to show the dedication we have to our clients and inspire them to be adequately educated and prepared to take their trading to even greater heights.
LR: What activities do you see both Valery and FXTM doing in what you're calling the #FXTMbasejump Project?
Olga: In the #FXTMbasejump project, we are supporting Red Bull athlete Valery as he trains across the globe in preparation for a unique and spectacular event which will be mark the project's finale.  The project takes place in various countries, and involves both training expeditions, and jumps. Those keeping track of Valery's progress via our website and social media channels will have seen that so far, as part of the #FXTMbasejump project, we've followed Valery to Chamonix in France, where he jumped off several exit points, including the most famous and popular, in the area of Mount Brevant. We've also seen him climb to the highest point in Peru, Mount Huascaran, and climb 5750m up Mount Pisco, also in Peru, as part of his preparation. The last stop before the big mystery finale, was Dolomites, Italy where Valery jumped off the Monte Brento Massif, and the area of Dolomiti di Brenta.
LR: What else can we expect to see from FXTM in the coming months?
Olga: In terms of the project with Valery, we've got some exciting milestones coming up! Unfortunately, I can't share much more information at this point, but those following the project should definitely keep an eye on announcements under the hashtag #FXTMbasejump!
From a company perspective, we've had an extremely busy first half of 2016, and we're not slowing down for the second half of the year! We are constantly expanding our product and service offering, using the latest technology and innovations to ensure that our clients get the most from their trading experience. For example, we were one of the first brokers to provide the hedging feature on the MT5 platform, and we recently launched a new version of our ForexTime App, which offers an advanced way into the world of trading, and seamlessly integrates users' ability to manage and access trading accounts quickly and easily while staying on top of financial market movements, on-the-go.
We have also invested in developing our product portfolio, through our highly experienced in-house R&D team. In 2016 we introduced our Shares Account, offering 180 company shares with direct connection to product pricing from the NYSE and NASDAQ exchanges – as well as FXTM Invest, our investment and copy trading program, which provides novice Investors with access to the markets and skillful Strategy Managers the opportunity to further benefit from their trades. For our loyal traders, we developed the ongoing FXTM Loyalty Program, and we'll be enhancing this reward concept to our partners as well, with the launch of FXTM Partners' exclusive Affiliate Program, based on a unique hybrid payment system. In the next few weeks we will be hosting a series of fantastic educational seminars and events in various regions, as well as participating in leading industry events across Europe, Middle East and China later in the year.