The following guest post is courtesy of New Zealand based Forex broker Titan FX.
---
For a successful and enjoyable career in forex trading, master effortless ways to increase productivity. One of the best methods to improve performance is by optimizing productivity. Time and energy are invaluable currencies. By making sure that both time and energy are always spent wisely, develop ways to be highly productive throughout the day.
Whether you are a novice or veteran trader, it is important to realize the importance of being productive in a forex trading career. Increasing productivity means improving all systems for timely accomplishment of high value tasks. It deals with smart planning, focused work and efficiency for completion. With proper time management and excellent well being, any forex trader can boost productivity levels for better trading results.
Top reasons to increase productivity
Amidst an energetic market, productivity is key to ensuring that time is spent on tasks that bring you closer to your forex trading goals. In the long run, productivity influences both personal development and career growth. Here are the top reasons to increase productivity when forex trading:
Constantly applying productivity can pave the way for optimization of systems
Long term productivity can increase efficiency in executions and quality of trades
Focusing on vital activities can boost trading performance and skill
Making time for important tasks allows for more free time to relax and de-stress
Becoming highly productive encourages better time and energy management
Apply simple ways to increase daily productivity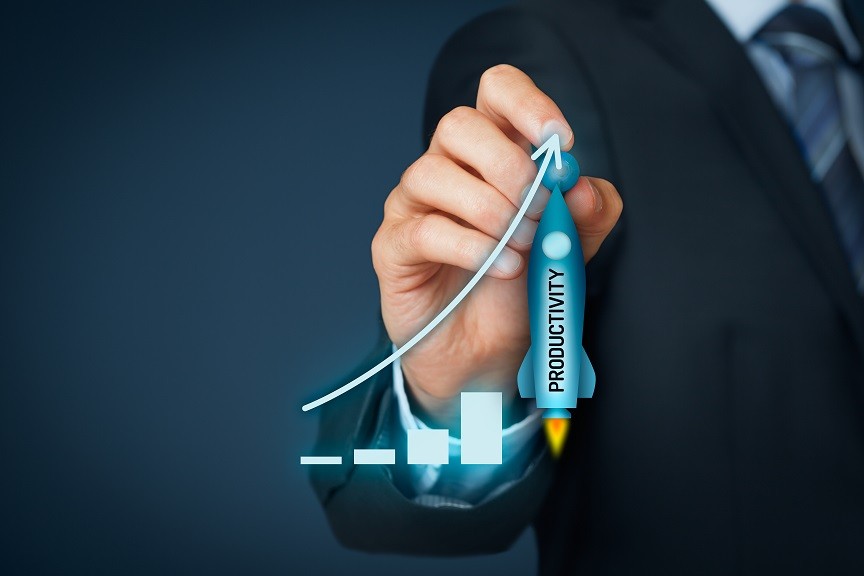 Increasing productivity can provide plenty of benefits. Along with diligence and forex education, it is one of the most effective ways to become a successful forex trader. To improve performance and efficiency, here are effortless ways to increase productivity in your daily trading routine:
Start first thing!
Morning routines set the pace for a productive day of trading. For optimal performance and daily productivity, forex traders should take advantage of the first three hours after sleep. Research has shown that these first few hours are vital for productivity. This is  when the brain is in its most active and motivated frame of mind.
Early morning habits can help boost and inspire traders for an energized day of work. To encourage productivity, here are Morning Routines That Ensure a Productive Day of Trading:
For early morning motivation, create a morning mantra for yourself to immediately feel inspired to tackle a day of trading.
To reduce stress and boost health, increase alertness by stimulating the body with a fun morning workout.
During the first hours of your day, read the news while relaxing to better process information and effectively execute any plans afterwards.
To take control of both short term and long term goals, start the day with a refined to-do list for better time and energy management.
For inspiration and a better mindset, invest time for your personal life first thing in the morning.
Set personal deadlines
Setting personal deadlines is a great way to boost productivity because it combines structure and accomplishment. Whether for daily tasks or long term goals, setting deadlines can increase concentration and productivity levels. Make sure that these deadlines are realistic and efficient.
Deadlines are often associated with feelings of anxiety or stress. For better productivity, it is beneficial to use personal deadlines as an advantage and helpful tool instead. Here are the best benefits of setting deadlines:
Prioritizes daily tasks and workflow
Increases focus on the job at hand
Allows you to set a clear strategy in order to reach the goal
Encourages better time budgeting
Stimulates the mind to think ahead
Study your personal time management
Studies show that everyone is productive at their own pace. By refining your personal time saving skills, you can make the most out of your hours while improving productivity and efficiency. When it comes to personal time management, it is also vital to take advantage of your personal energy levels. Make sure to complement your highest times of energy with high value tasks to increase productivity and quality results.
Build a productive environment
Creating a productive environment for forex trading is essential. When you have a space that motivates productivity, you can create a mindset that is ready to do the work. Although it is important to ensure a focused atmosphere, a forex trading environment should also be de-stressing. In a business that deals with risks and rewards, it is important to build a productive setting that is both efficient and relaxing.
Top 3 things you need to do to create a productive trading environment:
Prioritize comfort and productivity with the right office tools.
Organize your trading desk and make sure the essentials are within reach.
Prepare a mobile home office to give a change of scenery and new inspiration.
Boost endurance and productivity by boosting health
For success and productivity, it is important to take care of both physical and mental state for top performance. In fact, health for productivity is already a considered business strategy. To be highly productive for a day of forex trade, your physical and mental health has to be in the best shape. With the odd hours of trading, your body will need to be in its optimal state to go through the challenges ahead.
Easy ways boost health for productivity:
Schedule a workout at least 3 times a week for 30 minutes.
Eat more servings of fruit and vegetables.
Get enough rest and sleep.
Make time to relax and refresh the mind.
Avoid unproductive habits
Do you avoid learning from trading losses? Do you stray from your calculated trading plans? Bad habits like these are said to be the enemy of peak productivity. When working in a volatile forex market, focus and productivity are key to keeping the pace. Other unproductive habits include self-criticism, emotional attachment or anxiety. Over time, that repetition of these unproductive habits can lead to unreliable strategies, poor mental wellbeing and low efficiency. For a sustainable career in forex trading, practice avoiding any bad habits to increase productivity.
Make sure to keep track!
Calculating your productivity and efficiency is a great way to keep track. By tracking your productivity levels, you can refine and execute different ways to optimize. With proper analysis, you can determine whether a certain activity has proven to be a high value task. You can concentrate on activities that bring you closer to your trading goals.
Prioritize productivity in your daily trading routine
Optimization of both trades and forex trading character can help increase overall productivity. By prioritizing methods for better output, you can improve your efficiency and learn how to properly manage your time and energy. It's beneficial impact will make way for quality trades and the possibility of more profit. For better executions and market analysis, encourage and prioritize productivity into your daily trading routine.