Deutsche Börse has just announced its Cash Market, Pre-IPO & Growth Financing report for the previous month.
Here are some of the highlights:
Trading day following US election among the busiest of 2016
Reck: "Protection mechanisms provide security for all market participants"
Cash market posts turnover of €124.7 billion in November
The day following the US presidential election (9 November) was among the busiest for trading on Xetra in 2016. With an order book turnover of €10.1 billion, 9 November was the third heaviest trading day of the year so far. Higher turnover this year was posted only on the day following the Brexit referendum (24 June) with €16.1 billion, and on 18 March, a triple expiration day on Eurex Exchange, with €11.4 billion.
The undeniably special trading days following the US election and the Brexit referendum have once again demonstrated that Xetra is extremely reliable even in times of very high volatility," said Martin Reck, Managing Director Cash Market at Deutsche Börse AG. "Our protection mechanisms were put to exceptionally frequent use on those days. In particular, the volatility interruption, an auction that decelerates continuous Xetra trading and gives the market time to get its bearings during hectic periods, provides security to market participants on such occasions.
Cash market statistics
Order book turnover at Deutsche Börse's cash market amounted to €124.7 billion in November or 7% increase from 2015 (November 2015: €116.5 billion). Of this amount, €113.3 billion were attributable to Xetra, €4.2 billion to Börse Frankfurt and €7.1 billion to Tradegate Exchange. The average daily turnover on Xetra stood at €5.2 billion (November 2015: €5.1 billion).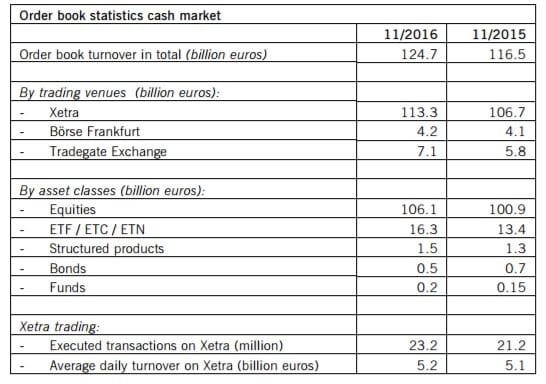 Broken down by asset classes, cash market turnover in equities reached about €106.1 billion. Turnover in ETFs/ETCs/ETNs amounted to €16.3 billion. Turnover in bonds was €0.5 billion, in structured products €1.5 billion and in funds €0.2 billion.
The DAX share with the highest turnover on Xetra in November was Bayer AG at €5.4 billion. Deutsche Wohnen AG led the MDAX equities with €775 million, while Klöckner & Co SE topped the SDAX equity index with €125 million, and Nordex SE headed TecDAX with €612 million. The ETF with the highest turnover on Xetra was iShares Core DAX UCITS ETF with €1.6 billion.
The electronic trading platform Eurex Bonds traded €8.0 billion in November (mainly government bonds, November 2015: €7.3 billion).
Further details are available online in Deutsche Börse's cash market statistics. For a pan-European comparison of trading locations, see the statistics provided by the Federation of European Securities Exchanges (FESE).