Continuing a string of warnings against forex and binary options brokers targeting traders in Canada, Canadian securities regulator the Ontario Securities Commission (OSC) has issued a warning to investors regarding CFD Capital Markets (at website cfdcapmkt.com), and Apex One Trading  (at website apexonetg.com).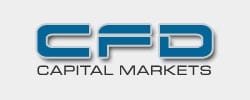 The OSC actually issued two separate warnings – possibly not realizing that CFD Capital Markets and Apex One Trading are actually the same company. Attempting to open an account with Apex One, a client is taken to a CFD Capital Markets data input page.
According to the OSC, CFD Capital Markets and Apex One Trading is not registered in Ontario, Canada to engage in the business of trading in securities.
The OSC typically issues warnings regarding unlicensed companies that appear to be engaging in activities that may pose a risk to investors in its jurisdiction, and which are apparently targeting Canadian traders.
The OSC warning against CFD Capital Markets can be seen here. The warning against Apex One Trading can be seen here.