Sofia-headquartered Bulgarian Stock Exchange (BSE) today reported some relatively striking volume metrics for the small European exchange.
November total market turnover tripled MoM from October's BGN 16.3 million to BGN 57.5 million ($30.9 million USD). Compared to the BGN 17.4 million in turnover in November 2015, the increase was more than three-fold YoY.
The volume growth of the instruments, listed on Premium Equities Segment was staggering: 1,084% YoY and 478% MoM.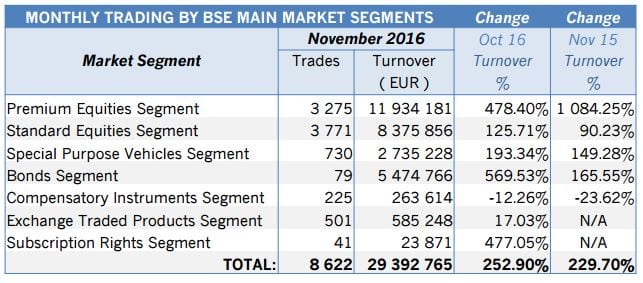 The only segment, having a slight turnover decrease in November was the Compensatory Instruments Segment.
All indices except BGREIT recorded price gains in November.
SOFIX had the highest monthly growth of 5.83%. The main index grew by an impressive 29% YoY.
November also saw the BSE Main Market capitalization grow by 3.2% MoM and by almost 10% YoY.
Market capitalization growth was most significant in the Premium Equities Segment where growth was 5.7% MoM and 38.7% YoY.
You can find BSE Sofia's Main Market Monthly Summary here (PDF).