This article was written by Luis Aureliano, a business writer and financial analyst. With over 15 years of experience in global finance and an MBA in economics and management, Luis's areas of expertise include business, marketing, communications, personal finance, macro economics, stocks and emerging markets.
---
Crude Oil has been suffering from a supply glut that has weakened oil prices for almost three years. However, analysts think that crude oil could experience a rapid turnaround in 2017 as geopolitical concerns starts to influence the supply-demand dynamics of crude oil. In fact, analysts have started to raise their price forecasts on crude oil and the current consensus estimate stands at $56 per barrel.
Crude oil is getting back to winning ways and the black gold is starting 2017 with a decent rally as Trump's presidency among other factors triggers a bullish rally in oil. To start with, the Brent Crude is up 25.99% and the West Texas Intermediate is up 17.06% since Donald Trump won the U.S. Presidential elections last year as seen in the chart below. This piece provides insight into three reasons crude oil could climb higher in the next couple of months.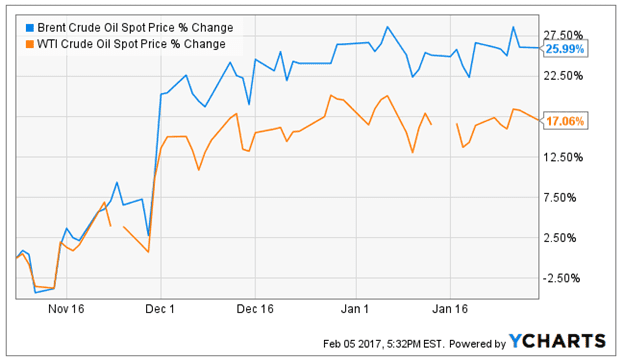 Iran might be soon be out of the market
The first factor that suggests oil prices could be rising in the next couple of months is the phenomenon of Trump's presidency.  To start with, President Trump has set up new sanctions against Iran in response to Iran's testing of missiles last week. Trump has made it clear that he won't mollycoddle any aggressive action from Iran and the new sanctions suggests that Iran's oil industry could start facing headwinds going forward.
Iran's crude oil industry is only starting to recover after some of the embargoes placed on its trade were lifted last year. However, Victor Alagbe, an analyst at Stern Options observes that "new sanctions from Trump could reduce the volume of Iran's oil the supply chain – thereby reducing the supply of oil in the market – a reduction in the supply of oil could alter the demand-supply balance to lift oil prices."
Trump's travel ban stokes tension with Gulf countries
Secondly, there's a speculative element pushing crude oil prices upwards in the commodities market in response to rising tensions between the U.S. and major oil-producing nations. One of the first things that Trump did after settling into the Oval Office was the issuance of a 'travel ban' on seven predominantly Muslim countries namely Iran, Libya, Iraq, Somali, Sudan, Syria, and Yemen.
Iran, Iraq, Libya, and Syria are stakeholders in the global crude oil market; hence, the fact that they are in Trump's 'black book' has already opened the proverbial Pandora's Box of tensions in the global crude oil market. Michael Webber, deputy director of the Energy Institute at University of Texas observed that "oil and gas is going to have the most heartburn from this"; hence, we can expect more shockwaves in the crude oil market going forward.
OPEC is making progress with output cut
Thirdly, OPEC is making progress with its proposed output cuts even though the plan initially looked uncoordinated. Last year, OPEC member nations made history when they worked out a deal to reduce their production in order to reduce the supply of oil in the market. Crude oil has been suffering from a supply glut for much of the last three years and the supply glut has sent oil prices on a downward spiral. Hence, the only way OPEC could arrest the decline in oil prices was to reduce its supply in order to regain balance in the supply-demand thesis of oil.
OPEC is working towards an output cut of 1.8 million barrels a day, or roughly 2% of the world's daily production. Interestingly, OPEC has achieved about 80% of its proposed cut. Saudi Energy Minister Khalid al-Falih that OPEC and its allies have collectively reduced output by 1.5 million barrels a day. In addition, Russia is keeping its end of the bargain in response to the production cut by OPEC. Last week, the Russian Energy Ministry revealed that the country's production output for oil and condensate has declined by 100,000 in January in contrast to the Dec 2016 volumes.