LeapRate has learned that FCA regulated retail FX and CFD broker ThinkMarkets has acquired Trade Interceptor, an increasingly popular trading analysis mobile app developed by Sofia, Bulgaria based software company Riflexo.
Details such as amount paid by ThinkMarkets are not available. We expect the companies to make an announcement shortly.
Through the acquisition, ThinkMarkets will connect its trading infrastructure to Trade Interceptor thus offering users the ability to analyse and trade from the same platform.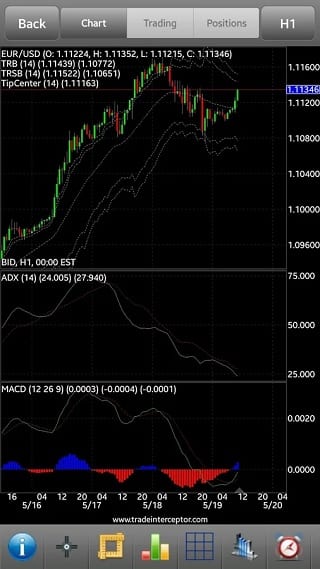 The deal is a good example of the increasing importance of mobile trading in the FX world, and in engaging traders on their mobile devices.
Trade Interceptor is one of the fastest-growing mobile apps in the fintech world. The app has been downloaded more than half a million times to-date, and is ranked in the top three on popular app stores including iOS, Android, Windows Mobile, Amazon's FireOS and Blackberry.
Trade Interceptor's growth has been achieved organically, without any marketing spend. The app focuses on robust charting functionalities, previously available only on powerful desktop platforms.
The app offers triple the number of chart-types and indicators available on most other retail forex brokers' apps. It was also the first to create server-side trading alerts – saving mobile device battery life as they don't need to keep the app open to receive notifications.
The app has modes in live, demo and back-tested scenarios, increasing its appeal to both beginner and advanced traders looking to trial their trading strategies. It was built and developed based on user feedback, with over 200 enhancements deployed so far to continuously upgrade and evolve its functionality.
Nauman Anees, CEO and co-founder of ThinkMarkets said:
We have a mobile-first strategy that will transform the world of online trading and propel us to become the world's largest mobile-trading broker.

We are heavily investing in mobile by offering users the very best mobile trading experience, our products come with exceptional order-execution, coupled with the advanced tools that our customers need to create and run trading strategies, wherever and whenever they want.

That covers everything from allowing our customers to go out and enjoy themselves without worrying about missed opportunities because their app is draining their phone battery, through to letting them make rapid adjustments in response to breaking events without having to rush home. We are determined to establish ThinkMarkets as a top-five global online trading broker. This acquisition is a big part of that.
Rodolfo Festa Bianchet, CEO of Trade Interceptor, said:
By integrating with one of the world's leading retail brokerages, we completely remove the need for traders to be chained to their desks. The world is mobile, traders should be too. Now traders can train, research, analyse and execute from a single platform with no loss of functionality, giving them a level of freedom that just hasn't been seen before.