The following article was submitted by Michael Stark, market analyst at Exness.
---
Asian shares and indices started the week without much direction, but European shares retreated as markets prepare for what's expected to be another volatile week. Crude oil and gold are basically unchanged so far today from where they ended on Friday. This week's key data is non-farm payrolls on Friday afternoon GMT.
The death toll from covid-19 has now passed 30,000 around the world according to the World Health Organisation, with the total number of cases more than 638.000. Many countries like the UK seem set to extend their lockdowns, some for more than a month. Initial expectations of a fairly swift economic recovery after the immediate crisis have mostly dissipated.
Despite most central banks having slashed rates this month, there was still considerable activity among them last week. Most notably, the Bank of Canada cut its target overnight rate by half a percent to 0.25%. The Czech National Bank also cut its repo rate by 0.75% to 1%.
There are no scheduled meetings of major central banks this week, but what members of various monetary policy committees say about their countries' economies is likely to remain a key factor driving forex and equity markets. Apart from Friday's NFP, the key regular data this week is on GDP in the UK and Russia plus balance of trade from Canada and the USA.
Dollar-yen, four-hour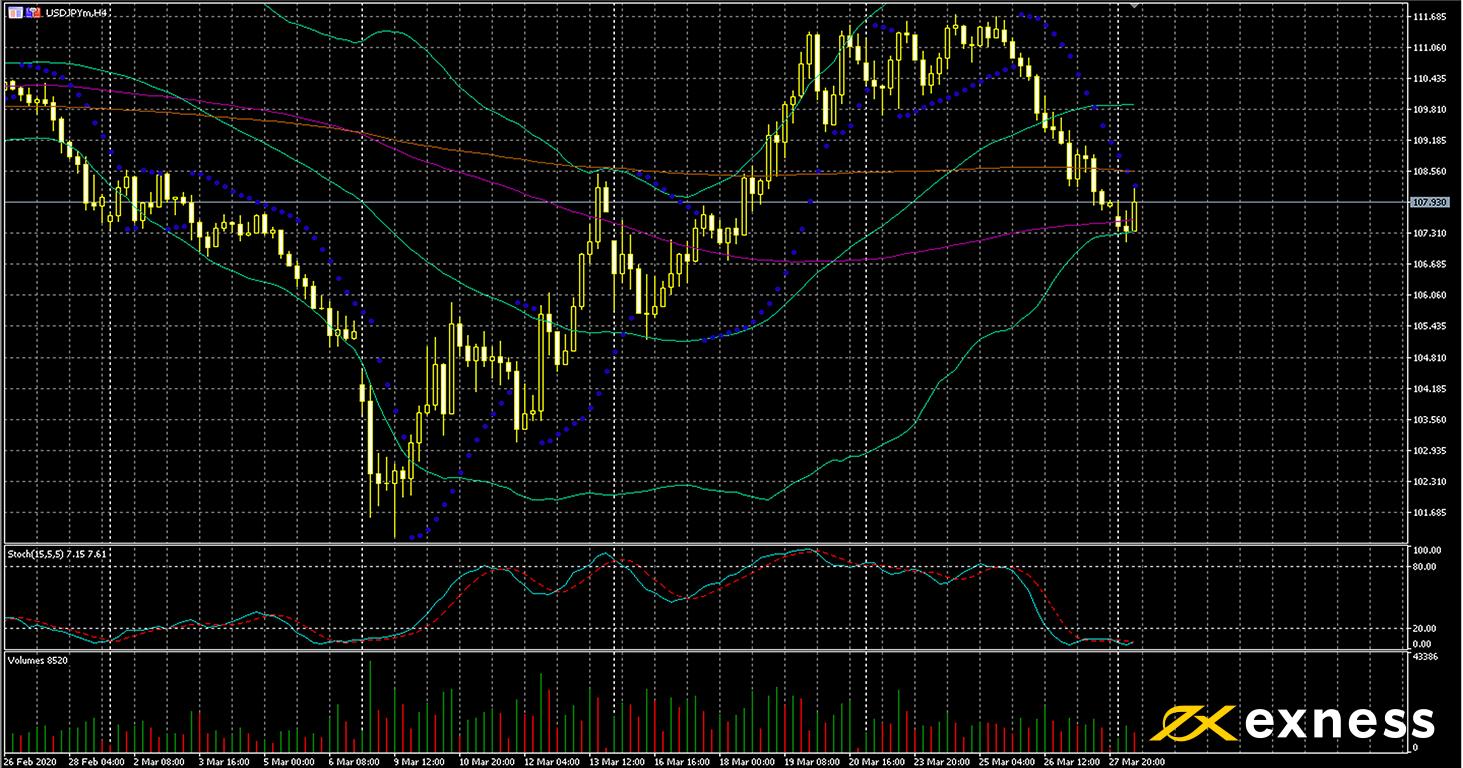 USD-JPY has posted a small gain in these opening hours of the week. This symbol's fundamentals are basically unchanged from last week, with indices still performing poorly and risk-on very much in vogue as the spread of the virus and lockdowns in many countries continue.
Today's early gains have been capped at around 108, suggesting that this psychological area could be an important resistance this week. This was previously a zone of support for this symbol before the current virus crisis began. The presence of price in the value area between the 100 and 200 SMAs might also suggest consolidation over the next few periods. Data this week will probably be very important for USD-JPY in addition to the news.